The Other Side of the Mirror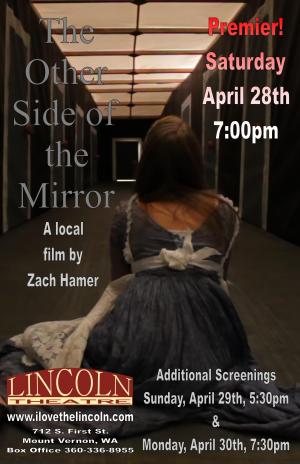 Saturday, Apr 28,

7:00 pm

-

10:00 pm
Meet the filmmakers and actors for the Northwest Premiere of The Other Side of the Mirror at Saturday night's reception!

The Other Side of the Mirror is a retelling of Alice in Wonderland like you've never seen it before. A new feature narrative film coming March 2012. The film will begin screening in New York City this winter and then showings in the Pacific Northwest (including the Northwest Premiere here at the Lincoln), where the film was shot, and France will begin early spring 2012.

In 1905, amidst the largest drug epidemic in American history, a teenage Alice has just moved to the Pacific Northwest. She follows a mysterious man down a rabbit hole, leading her into Wonderland; a dark and curious world inhabited by characters from turn-of-the-century America and the Pacific Northwest.
Directed by Zach Hamer.
Director of photography: Claude Bauschinger.
Starring: Selena Tibert, Doug Zwick and Nathan Hame

Admission Prices*:
General: $9.00
Seniors, Students and Active Military: $8.00
Members: $7.00
Children 12 and under: $6.00
Bargain Matinee Prices (all shows before 6:00pm)
General: $7.00
Members: $5:00
Children 12 and under: $4.00

Your membership with the Lincoln Theatre saves you $2.00 per film ticket.

*All prices include a 50¢ Preservation Fee that goes directly into our capital account for films.

Monday film screenings are part of the Lincoln Theatre Member Mondays! Click here for details.

Film dates and times are subject to change and extended runs. Please check here, or our phone message at 360.336.8955, day of show.