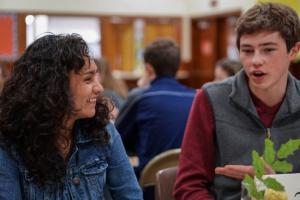 Over the past 8 months, Skagit Valley teens from diverse faith backgrounds have been participating in an interfaith dialogue program sponsored by the Treacy-Levine Center in collaboration with Voices of the Children. Throughout the program, teens have shared their own faith traditions while learning of others' through open exploration.
Join teen participants who have been part of the program for an evening of sharing, learning and engagement centered around a common topic among all faiths: compassion. The program includes student reflection, a video slideshow, and group conversation before unveiling the culminating project of this program: a mural painted in downtown Mount Vernon that reminds us all to live life with more compassion…
Admission is by donation.