Salmon Fishing in the Yemen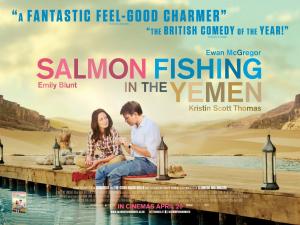 Saturday, May 19, 7:30 pm
A visionary sheik believes his passion for the peaceful pastime of salmon fishing can enrich the lives of his people, and he dreams of bringing the sport to the not so fish-friendly desert. Willing to spare no expense, he instructs his representative to turn the dream into reality, an extraordinary feat that will require the involvement of Britain's leading fisheries expert who happens to think the project both absurd and unachievable. That is, until the Prime Minister's overzealous press secretary latches on to it as a 'good will' story. Now, this unlikely team will put it all on the line and embark on an upstream journey of faith and fish to prove the impossible, possible.
Directed by Lasse Hallström

Starring: Amr Waked, Emily Blunt, Ewan McGregor, Kristin Scott Thomas

Reviews:

NPR
Reviewed by: Ella Taylor

The crisply sweet banter and the halting intimacy that grows between two shy people with a common goal more than makes up for a wildly implausible plot.

McClatchy-Tribune News Service
Reviewed by: Roger Moore
There's something gloriously twee about Salmon Fishing in the Yemen.
Maybe it's the very conceit of the thing, that a mad — some would say "visionary — Anglophile sheik could want to fling his millions at a water project in his homeland that will include a provision to transplant his favorite sport — fly fishing — from the Scottish Highlands to the High Desert.
Maybe it's the way the wonderful Egyptian actor Amr Waked gives the Muslim mystic's twinkle to that sheik — "For fishermen, the only virtues are patience, tolerance and humility."
Maybe it's the sarcastic sparks Ewan McGregor, giving full voice to his Scots accent, sets off in his snide dismissals of Emily Blunt.
"If your sheik wants to pour his money down the drain, why doesn't he buy a football club?"
Kristin Scott Thomas is the final touch of twee — perfectly cast as a profane, hip and cunning press secretary to the prime minister who presides over a staff of "puffed-up Ox-bridge English buffoons," but who needs a feel-good Anglo-Arab story. She sees this sheik's wild-eyed scheme to transform his corner of the Yemen into a place more like Britain _ watery, fish-eating, a land of contemplative sports fishermen — and by not-so-subtle implication, a land more "civilized."
The movie, based on Paul Torday's novel, is a romantic confection whipped up by the screenwriter of "Slumdog Millionaire" and the director of "Chocolat." The occasional intrusion of Middle Eastern realpolitik (terrorism, military interventions) is but a momentary frown of worry in this frothy delight.
McGregor is Dr. Alfred Jones, the fussy, fastidious government salmon expert who refuses to even consider this folly — until he's ordered to from On High. Blunt is Harriet Chetwode-Talbot, the sheik's PR manager and easily underestimated assistant when it comes to making his dreams — even his follies — come true. Harriet answers Alfred's every putdown, every obstacle, with a possibility. When he says "Get me the planners of the Three Gorges," the biggest dam in the world, he means to shut her down. But she gets them.
Harriet has a beau in the military, but that doesn't prevent the unhappily-married Alfred from taking a shine to this unflappable lass.
He's so tactless (Asperger syndrome is hinted at) that he hasn't a prayer. But the sheik? He's all about prayers.
"I have too many wives to not know when a woman is not happy."
Beaufoy's script puts a sympathetic face on Islam and the Arab world, not unlike the "It is written" morale of "Slumdog Millionaire." The writing sings sparkles with wordy wit.
And McGregor, who has never been given a script that lets him prattle on about "the bagatelle of a man with more money than sense" before, gives an unforced performance of boundless charm and romantic ineptitude.
This not-quite-madcap piece may be a tad contrived, and inoffensive in the extreme. But somehow, this cast, this director and this writer make it all come off, as unlikely a delight as the very fishy story it is built on.
Admission Prices*:
General: $9.00
Seniors, Students and Active Military: $8.00
Members: $7.00
Children 12 and under: $6.00
Bargain Matinee Prices (all shows before 6:00pm)
General: $7.00
Members: $5:00
Children 12 and under: $4.00

Your membership with the Lincoln Theatre saves you $2.00 per film ticket.

*All prices include a 50¢ Preservation Fee that goes directly into our capital account for films.

Monday film screenings are part of the Lincoln Theatre Member Mondays! Click here for details.

Film dates and times are subject to change and extended runs. Please check here, or our phone message at 360.336.8955, day of show.