Unlisted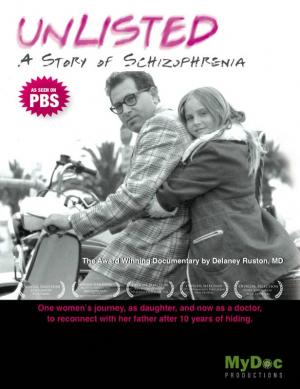 In recognition of National Mental Health Awareness Month, NAMI Skagit - the Skagit Chapter of the National Alliance on Mental Illness – will screen the award-winning documentary, Unlisted: A Story of Schizophrenia, at the Lincoln Theatre.

UNLISTED: A STORY OF SCHIZOPHRENIA premiered on PBS nationwide beginning in October 1, 2010, coinciding with Mental Illness Awareness Week. The one-hour film won Most Compelling Documentary at Seattle's True Independent Film Festival and was featured at the national conferences of Mental Health America and the National Alliance on Mental Illness.


Unlisted gives a moving first person account of producer/director Delaney Ruston's relationship with her father as she faces the emotionally wrenching effects of his illness in the past and the present.


Steve Lopez, the LA Times journalist and author who befriended a homeless musician with schizophrenia whose story became the basis for the film The Soloist, calls Unlisted "beautiful and powerful, a love poem."


For many years, physician and filmmaker Delaney Ruston was estranged from her father, Richard, a poet and novelist who struggled with schizophrenia and at times lived on the streets. Feeling helpless whenever he showed up at her door in psychotic states, she decided to become unlisted in the phone book.


Medical school taught Ruston about the science of mental illness, but not the actual experience of people living with it. She reached a turning point when her son started asking about his grandpa. When Delaney reconnects with her father he is doing well, in supportive housing and on treatment. What starts as a gripping story of reconciliation suddenly shifts when Richard stops his medicine and goes missing.To learn more visit www.unlistedfilm.com.


Ruston says, "Severe mental illness can tear families apart but not for the reasons people commonly think of… yes the symptoms can be difficult, but what often tears families apart is the difficulty in getting services and treatment. Ruston adds, "I was initially motivated to make Unlisted by this political reality, but soon realized it was for more personal reasons that I kept going."


"Unlisted is very special – personal, beautifully crafted, and moving, while also exposing the heartbreak and frustration faced by families coping with mental illness," says David Davis, vice president of national TV production for Oregon's PBS station.


"America's mental health care system is in crisis, but many courageous people are fighting for hope and recovery," said NAMI Executive Director Michael J Fitzpatrick. "Unlisted is a powerful film and a vehicle for education."


NAMI Skagit focuses on education, advocacy and support for people living with mental illness and their families. We know that serious mental illness is a treatable medical condition; people can and do recover. An educated and compassionate community provides important supports to those experiencing their own loved one's illness.


We are pleased to offer this screening of the award winning documentary Unlisted, which examines relationships and setbacks as a young woman works to reconnect with her father and help him get the treatment he needs. Life is not always fair, as this family has learned, but we can help by rejecting stigma and supporting recovery whenever the opportunity arises.

Admission by donation.