Whisky Galore!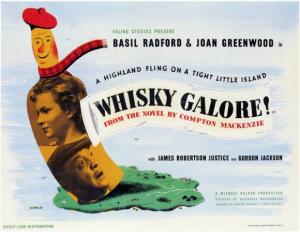 This is a co-presentation with the Celtic Arts Foundation and features a complimentary whisky tasting of Laphroaig Single Malt Scotch Whisky in our Art Bar prior to the film. This is a 21 and over with I.D. event. Doors open for the whisky tasting at 6:30pm.

Originally released in Great Britain as Whisky Galore! and in the states as Tight Little Island (as a ban existed at the time on using the names of alcoholic drinks in titles) this 1949 film is a comedy predicated on the notion that all Scotsmen are lushes. The tiny Scots Island of Todday suffers from a wartime whisky shortage. Luck of luck, a ship full of the precious liquid is wrecked on a reef. The islanders conspire to smuggle the whisky off the ship right under the noses of the pesky British revenue officials. Numerous clever comic complications occur before the happy ending--which, we are told by the narrator, was not so happy once all the whisky was consumed. Tight Little Island is regarded by devotees of British comedy as the best and most representative offering from the short-lived Ealing Studios.

Directed By: Alexander Mackendrick
Starring: Basil Radford, Catherine Lacey, Gordaon Jackson and Joan Greenwood

Reviews:
100% on the TomatoMeter

Admission Prices*:
General: $9.00
Seniors, Students and Active Military: $8.00
Members: $7.00
Children 12 and under: $6.00
Bargain Matinee Prices (all shows before 6:00pm)
General: $7.00
Members: $5:00
Children 12 and under: $4.00

Your membership with the Lincoln Theatre saves you $2.00 per film ticket.

*All prices include a 50¢ Preservation Fee that goes directly into our capital account for films.

Monday film screenings are part of the Lincoln Theatre Member Mondays! Click here for details.

Film dates and times are subject to change and extended runs. Please check here, or our phone message at 360.336.8955, day of show.