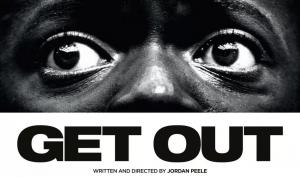 Now that Chris and his girlfriend, Rose, have reached the meet-the-parents milestone of dating, she invites him for a weekend getaway upstate with Missy and Dean. At first, Chris reads the family's overly accommodating behavior as nervous attempts to deal with their daughter's interracial relationship, but as the weekend progresses, a series of increasingly disturbing discoveries lead him to a truth that he could have never imagined.
Director:  Jordan Peele
Cast: Daniel Kaluuya, Allison Williams, Catherine Keener, Bradley Whitford, Caleb Landry Jones, and Marcus Henderson
What the critics are saying:
Certified Fresh on Rotten Tomatoes (99%)
"Funny, scary, and thought-provoking, Get Out seamlessly weaves its trenchant social critiques into a brilliantly effective and entertaining horror/comedy thrill ride."
Stephanie Zacharek, TIME Magazine
"Peele succeeds where sometimes even more experienced filmmakers fail: He's made an agile entertainment whose social and cultural observations are woven so tightly into the fabric that you're laughing even as you're thinking, and vice-versa."
Matt Patches, Thrilist
"A ravenous masterpiece tailor made for America's current climate."
On the Mighty Wurlitzer:
Harvey Rossiter, Friday 28
Fred Beeks, Sun 30, Monday 1
Film Prices:
General: $10.00
Seniors, Students and Active Military: $9.00
Members: $8.00
Children 12 and under: $7.00
Sunday Bargain Prices:
General: $8.00
Members: $6.00
Children 12 and under: $5.00
Add $2.00 to the above prices for 3D screen
Your membership with the Lincoln Theatre saves you $2.00 per film ticket.
*All prices include a $1.50 Preservation Fee that goes directly into our capital account for preservation of the Lincoln Theatre and its programs. Film tickets are only available at the door beginning 45 minutes before the first screening of the day. This saves you, the ticket buyer the fees associated with purchasing online. Never fear – there are plenty of seats!
 
Members have benefits: Follow this link for more info. 
 
Film dates and times are subject to change and extended runs. Please check back here, or our phone message at 360.336.8955, day of show.