Monday, Jul 9, 10:00 am

to

Friday, Jul 13, 3:00 pm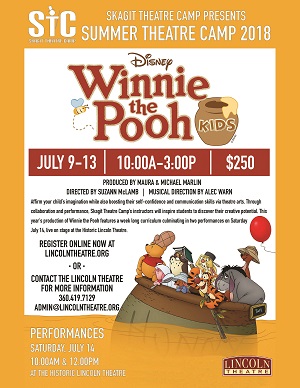 Registration is open to students entering the 1st grade in September 2018 through the 8th grade. Tuition: $250 (includes T-Shirt and two complimentary tickets to performance.) 10% discount for each additional family/household student registration. Refund/Cancellation Policy $50.00 of each tuition is non-refundable. The remainder of tuition is refundable up to, and including, the first day of camp. No refunds will be given after the first day. If Camp is cancelled due to lack of enrollment, a full refund will be given. General Public Performance Tickets: $10 adults; $5 students and children ages 6 - 17: children 5 and under are Free!
During the weeklong session, student groups will study a broad range of stagecraft including acting, singing, dancing, costume, sets, props, lighting and sound. Skagit Theatre Camp is led by experienced theater professionals who love what they do. Skagit Theatre Camp is presented by the Historic Lincoln Theatre.This summer's Skagit Theatre Camp returns July 9 - 13 and is a rare and fun opportunity to affirm your child's imagination while also boosting their self-confidence and communication skills via theater arts. Through collaboration and performance, STC's theater instructors will inspire students to discover their creative potential.