Thursday, Sep 15, 6:15 pm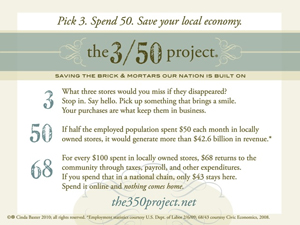 First Come, First Served Seating
Tickets available at the Lincoln Box Office, through the MVDA, or through either the Mount Vernon, Burlington or Anacortes Chamber of Commerce.
 
The Mount Vernon Downtown Association welcomes Cinda Baxter: the creator of
The 3/50 Project Saving the brick and mortars our nation is built on.
 
 
*Thanks to the Washington State Main Street Program, the MVDA is happy to host an evening with Cinda Baxter!
 
Ms. Baxter will conduct a one evening seminar with a Q&A session on how you can use the 3/50 project to strengthen your own business. Tickets for the seminar will be $5 and can be purchased through the MVDA, Main Street office.