Leo Kottke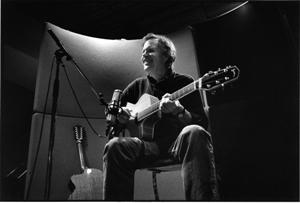 Saturday, Mar 10, 8:00 pm
Reserved Seating
$50 sections 1 & 2; $40 section 3; $25 section 4.
Buy Tickets Now
UpwestArts presents Leo Kottke.
The Leo Kottke concert is sold-out. A limited number of tickets may be available at-the-door immediately before the 8:00pm start time. First come - first served. Box office opens at 6:00pm Saturday evening.

Solo acoustic guitarist Leo Kottke is a walking contradiction. In conversation he is slow talking, thoughtful almost to distraction. Yet when he picks up a steel-stringed guitar, his fingers race across the strings with uncommon speed, developing a deep, churning groove that can at times sound like several people playing at once. He seems to play guitar at 78 rpm, yet he speaks at 33. Now 65 years young, Leo Kottke has recorded over 30 albums that showcase his barnstorming fretwork and quirky songwriting.

He is truly a master of the guitar whose playing has influenced generations of musicians and listeners, and he still tours the country relentlessly, playing his 6 and 12-stringed guitars for appreciative audiences ranging from New England to Southern California, from Brisbane to Berlin.