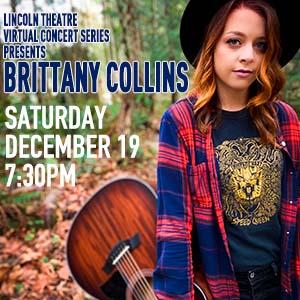 Saturday, Dec 19, 7:30 pm


Describing her music as "cheerfully sad Americana" Brittany Collins writes songs that are equal parts heartbreaking a hopeful. Her hauntingly powerful voice evokes imagery of the rugged mountainous landscape where she was raised and still lives in the Pacific Northwest. Her performance will hit you like a lightning bolt and leave you begging for more.
A self-described "late bloomer" Collins didn't perform on stage until she was in her twenties, but once she was there it became clear that this is where belonged. Quickly building from acoustic coffeehouse shows to packed summer festivals, her infectious energy and soulful voice have made her a darling of the Northwest music scene not to be missed. Her self-produced, self-released debut "The Hitchhiker EP" introduced her to audiences as a woman on the rise, and 2021 promises exciting things to come for this girl who can't sit still and writes everything down.
Support for the series comes from Margaret and Allen Bird, and Cindi and Steve Olszewski, Mr. Don Wick, Dimensional Communications, Logan Creek and JRivera & Associates. A big thank you to to Colby and Brett from Dimensional Communications for their technical assistance. Virtual Portrait Support: Wendy and Roger Ragusa, Susan Wilson and Eric Hall, Duncan West and Mary Deaton.
The concerts will be streamed free on Youtube with donations accepted. Proceeds will be split 50/50 between the performers and the Lincoln Theatre Center Foundation.
Artists: Are you ready to get back on stage? Please email roger@lincolntheatre.org if you are interested in being a part of this series.
Sponsors: Would you like to help offset crew and licensing costs? Low cost sponsorships are available. Cilck HERE for a PDF to the sponsor agreement. Please email roger@lincolntheatre.org for more information.