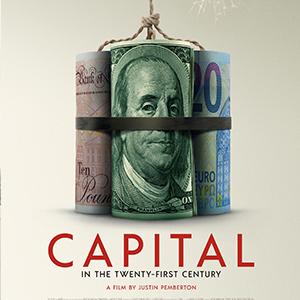 Friday, May 8 (All day)

to

Thursday, May 21 (All day)
VIRTUAL CINEMA OFFERING
OPENS FRIDAY, MAY 8

Help support the Lincoln Theatre through this unique partnership with Kino Marquee!
Based on the international bestseller by rock-star economist Thomas Piketty (which sold over three million copies worldwide and landed Piketty on Time Magazine's list of most influential people), this entertaining documentary is an accessible journey through wealth and power, a film that breaks the popular assumption that the accumulation of capital runs hand in hand with social progress, and shines a new light on today's growing inequalities. Traveling through time, the film combines pop-culture references and interviews with some of the world's most influential experts to deliver an insightful and empowering journey through the past and into our future.
"A massive achievement, turning this weighty volume into enthralling cinema." - Richard Whittaker, Austin Chronicle
"Engaging and clear... Piketty is not only a brilliant economist but also one with a gift for making complicated ideas accessible." -Ben Kenigsberg, The New York Times
Director: Justin Pemberton
New Zealand | English and French with English Subtitles | 2020 | Documentary | 103 minutes | NR 
$12 for a 72 hour rental period.
50% of your ticket purchase directly supports the Lincoln Theatre, while the remainder support independent filmmaking & distribution.
HOW TO WATCH: TELEVISION (via the the downloaded APPLE TV or ANDROID app, or CHROMECAST) MOBILE DEVICE (iPhone, iPad, Android) | COMPUTER (by clicking on the link below).
For more information on how the rental works:
Click the button above, or follow THIS LINK to purchase entry to our digital screening room.
Create an account – it's very easy! – and complete your purchase, you can also gift a screening to a friend of family member.
Watch as much as you like for 72 hours!
For any questions regarding streaming, device, connection, or payment issues, Row House Cinema can help you here.
For non-streaming questions, please feel free to reach out to us at admin@lincolntheatre.org