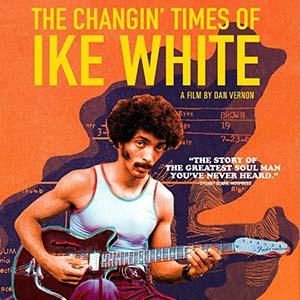 Friday, Dec 4 (All day)

to

Thursday, Jan 7 (All day)
QUARANTINE CINEMA OFFERING
THE RUN OF THIS FILM HAS ENDED - THANK YOU!

Serving a life sentence for murder in the early 1970s, music prodigy Ike White had plenty of time to perfect his musical talent, but no hope of putting it to use in the outside world. Ike's skills were exceptional enough, though, that his story captured the media's attention. From this notoriety, he was able to record an album inside the prison with big-time producer Jerry Goldstein (War, Sly and the Family Stone). Superstar Stevie Wonder lobbied successfully for Ike's early release from prison. With an acclaimed album under his belt and the support of Wonder and others in the industry, Ike was poised for stardom. But, instead, he went off the grid for over 40 years. Daniel Vernon's mesmerizing new documentary is unpredictable and moving, echoing the strange journey of Ike White.
"The Changin' Times of Ike White had  an extraordinary story to tell - but one that, halfway through the documentary, already seemed to be complete. So, you might well have thought at that point, how would it fill the rest of the time? The answer, it transpired, was by taking an even more jaw-dropping turn."​  - James Walton, The Spectator
Director: Dan Vernon
UK | English  | 2020 | Documentary | 77 minutes | NR 
Virtual Tickets: $12.00. 50% of the proceeds support the Lincoln Theatre!
HOW TO WATCH: TELEVISION (via APPLE TV, ROKU, CHROMECAST, or downloaded app on your smart TV) | MOBILE DEVICE (iPhone, iPad, Android) | COMPUTER (by clicking on the streaming link).
For more information on how the rental works:
Click the BUY TICKETS button above to purchase entry to our digital screening room.
Create an account – it's very easy! – and complete your purchase. 
For general help go to our Streaming Information Page HERE.
For any questions regarding streaming, device, connection, or payment issues, reach out directly streaming platform HERE.
For other questions, please feel free to reach out to us at admin@lincolntheatre.org