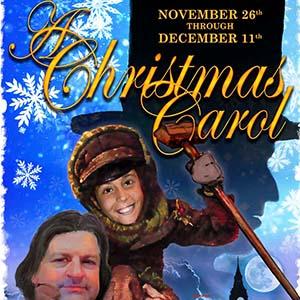 Saturday, Nov 27, 8:00 pm
Wednesday, Dec 1, 8:00 pm
Saturday, Dec 11, 8:00 pm
Advance Reserved Seating Tickets: $16 - $28 + applicable fees. $2 discounts for Lincoln Theatre Members, Seniors, Students, and Children. Wednesday, Dec 1 is Pay-What-You-Can Night.
"The greatest ghost story ever told"
LIVE THEATRE IS BACK! A CHRISTMAS CAROL NOVEMBER 26 - DECEMBER 11
Produced by The Historic Lincoln Theatre
An Original Adaptation Based On The Novel By Charles Dickens. Book by Teresa Vaughn and Brian Young
Directed by Angela Marinella
Pre-Show features The Devillies - Playing "Old Irish and English traditional songs made for dancing, crying and laughing."
Old English Christmas Carols by Madrigal Singers.
Pre-Show starts at 7:30pm evenings and 2:00pm matinees.
Curtain for A Christmas Carol at 8:00pm evenings and 2:30pm matinees.
The Skagit Valley's favorite holiday tradition is back and promises an experience that is more magical than ever. Come share the joy of the holiday season, as our theatre transforms into a page right out of the classic tale by Charles Dickens. Richly textured sets, ornate costumes and spectacular special effects will transport the entire family into the tale of the grumpy Ebenezer Scrooge, who requires the intervention of a few ghostly guides to find the true meaning of Christmas - and life itself.
Theatre Director Roger Gietzen says, "It brings all of us at the Lincoln such joy to return to live performance with our holiday tradition A Christmas Carol. For over 25 years this story, with book by Teresa Vaughn and Brian Young, has brought our community together to experience Scrooge's story of redemption and renewal and it is with deep gratitude, after twenty months of our country's theatres being dark, that we welcome you back and revive this joyous and meaningful tradition."
In addition to the return of Brian Young as Ebenezer Scrooge, cast members include a Who's Who of PNW acting talent playing your favorite Dickens characters:
Mark Cronin Lamplighter, William Borden
Susan Shreve Beggar Woman, Mrs.Fezziwig
Mike Marlin Bob Cratchit
Irelyn Lenz Tiny Tim
Lisa Notter Prudence
Laura Holland Penelope
Nate Wheeler Mads, Young Man Ebeneezer, Business Man
Adam Bessman Harry, Fred
Jenee Geoghegan Alice, Past Party Guest
Kathy Grinstead Lily, Past Party Guest
Matt Small Ian, Past Party Guest
Teddy Shipley Urchin, Boy Ebby, Peter Cratchit
Olivia Grinstead Urchin, Schoolkid, Belinda Cratchit
Ava Phillips Urchin, Schoolkid, Martha Cratchit
Pat Shreve Charles Dickens
Damond Morris Ghost of Jacob Marley, Christmas Future Puppeteer
Shelby Van Vonst Ghost of Christmas Past, Gooseboy
Sophia Frahm Young Fern, Beth
Nylah Torgerson Belle
Kevin Cobley Fezziwig, Ghost of Christmas Present
Maura Marlin Mrs. Cratchit
Moses Marlin Topper, Past Party Guest, Present Peddler
Pre-Show:
The Devillies: Derek Duffy, Angus McLane, Margaret Driscoll, Steven Rystrom
Madrigal Singers: Adia Bowen, Carmen Souza, Nate Wheeler, Adam Bessman
Soloists: Donna Dupras, Carmen Souza
 
"There is nothing in the world so irresistibly contagious as laughter and good humor." ― Charles Dickens, A Christmas Carol
Thank you to our Sponsors!