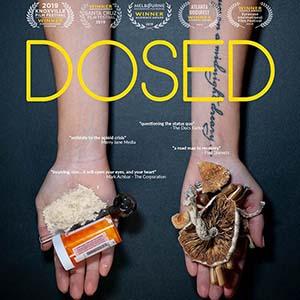 Friday, Oct 9 (All day)

to

Thursday, Oct 29 (All day)
QUARANTINE CINEMA OFFERING
AVAILABLE STARTING OCTOBER 9

DOSED is a feature doc about psychedelics - the most important drugs in the world right now for helping people with depression, anxiety, PTSD, and addiction.  After many years of prescription medications failed her, a suicidal young woman, Adrianne, turns to underground healers to try and overcome her depression, anxiety, and opioid addiction with illegal psychedelic medicine like magic mushrooms and iboga. The story of drug addiction is all too familiar. This movie about one woman's fight for her life against all odds is poignant for our time. DOSED is a powerful and eye-opening documentary that follows the deeply personal journey of one woman, Adrianne, and her attempt to free herself from the grasp of heroin. It's an addict's journey from rock bottom to early recovery using primarily Psilocybin mushrooms and Ibogaine therapies.  Trapped inside a system that does not value her, offering treatments that do not work, desperate and contemplating suicide, she decides to take a risk in order to heal herself.
With renowned trauma specialist Dr Gabor Maté, mycologist Paul Stamets, author of Fantastic Fungi: How Mushrooms Can Heal, Shift Consciousness & Save the Planet and Rick Doblin, founder of MAPS
"What makes the film persuasive, first and foremost, is Adrianne herself, as we see her eyes shine with a newfound clarity once the haze of heroin has lifted."  - RogerEbert.com
Director: Tyler Candler
USA | English  | 2019 | Drama | 84 minutes | NR 
Virtual Tickets: $12.00 for a 72-hour rental. 50% of the proceeds support the Lincoln Theatre!
HOW TO WATCH: TELEVISION (via APPLE TV, ROKU, CHROMECAST, or downloaded app on your smart TV) | MOBILE DEVICE (iPhone, iPad, Android) | COMPUTER (by clicking on the streaming link).
For more information on how the rental works:
Click the BUY TICKETS button above to purchase entry to our digital screening room.
Create an account – it's very easy! – and complete your purchase. 
For general help go to our Streaming Information Page HERE.
For any questions regarding streaming, device, connection, or payment issues, reach out directly streaming platform HERE.
For other questions, please feel free to reach out to us at admin@lincolntheatre.org