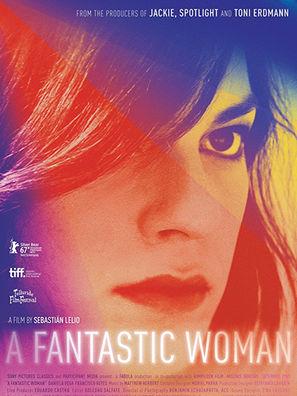 Saturday, Mar 31, 7:30 pm
Running Time: 100 minutes
Marina and Orlando are in love and planning for the future. Marina is a young waitress and aspiring singer. Orlando is 20 years older than her, and owns a printing company. After celebrating Marina's birthday one evening, Orlando falls seriously ill. Marina rushes him to the emergency room, but he passes away just after arriving at the hospital. Instead of being able to mourn her lover, suddenly Marina is treated with suspicion. The doctors and Orlando's family don't trust her. A woman detective investigates Marina to see if she was involved in his death. Orlando's ex-wife forbids her from attending the funeral. And to make matters worse, Orlando's son threatens to throw Marina out of the flat she shared with Orlando. Marina is a trans woman and for most of Orlando's family, her sexual identity is an aberration, a perversion. So Marina struggles for the right to be herself. She battles the very same forces that she has spent a lifetime fighting just to become the woman she is now - a complex, strong, forthright and fantastic woman.
Academy Award Winner: Best Foreign Language Film
In Spanish with English Subtitles
Directed By: Sebastian Lelio
Cast: Daniela Vega, Francisco Reyes, Luis Gnecco, Aline Kuppernheim, Nicolas Saavedra, and Amparo Noguera.
What the critics are saying:
"Subtle and tender, A Fantastic Woman handles its timely, sensitive subject matter with care."
Certified Fresh on Rotten Tomatoes
"Fantastic is one word for it, another would be outstanding." 
Adam Graham - Detroit News
"In our increasingly polarized time, "A Fantastic Woman" bridges the gap between ignorance and understanding through the transcendent power of art."
Calvin Wilson - St. Louis Post-Dispatch
 
Film Prices:
Lincoln Theatre Members get a $2 discount on the following prices:
General: $10.50
Seniors, Students and Active Military: $9.50
Children 12 and under: $8.00
Sunday Bargain Prices:
General: $9.00
Children 12 and under: $7.50
Add $2.00 to the above prices for 3D screenings
All prices include a $1.50 Preservation Fee that goes directly into our capital account for preservation of the Lincoln Theatre and its programs. 
 
Members have benefits: Click here for details.