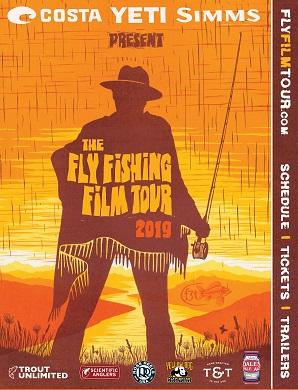 Thursday, Apr 11, 7:00 pm
Fly Fishing Film Tour 2019 presented by the North Sound Chapter of Trout Unlimited.
Come enjoy the latest in fly fishing adventure film and support wild steelhead on Thursday, April 11th at the Lincoln Theatre.  The film tour will feature a variety of short films about fly fishing from around the globe.  Following the film there will be a raffle for a number of fishing products and logo gear to enjoy.  All proceeds from the event will go to our local North Sound Chapter of Trout Unlimited for use in wild steelhead recovery efforts. 
The festival consists of short and feature length films produced by professional filmmakers from all corners of the globe, showcasing the passion, lifestyle and culture of fly-fishing. The films at this popular event are capturing the attention of anglers around the world.
This year's films include: Movements – A Colin Scott Film | Wilder Studios Production • Three Alaska fishing guides finish their 100+ day guiiding season and road trip back to their home waters on the East Coast in "Van-a-White," their early-2000's white minivan – a true fish bum rig if there ever was one. Along the way they find AK trout, BC Steelhead, Wisconsin Musky, New York Stripers and the reasons they became obsessed with fly fishing to begin with. Glorious Bastards – Capt. Jack Productions • Jako Lucas, Christiaan Pretorious and a crew of expedition anglers explore the outer reaches of the Australian coast and find some of the best salt water fishing in the South Pacific. Species: Blue Bastards, Indo Pacific Permit, Shark, Trevally and more! NexGen – Beattie Productions | Off the Grid Studios • RA Beattie follows two members of fly fishing's next generation to the trout factory that is the South Fork of the Snake River in Idaho and captures this famed fishery in all its glory. As the crew revel in dry fly madness and manic streamer chases, it's evident that the kids are all right… and they're fishy as hell. Hank Patterson's Around the World Globe – Trout Jouster Studios • Hank's has had some great pieces in the Fly Fishing Film Tour so we decided to reward his hard work and dedication with the chance to film in an exotic and rarely-seen destination… South Dakota. In this exploratory epic, Hank delves deep into the Black Hills, mining for reclusive trout and even more reclusive locals. Alignment (F3T Exclusive Cut) – Eric Jackson | Vantage Cinema • Eric Jackson made a name for himself as a professional snowboarder, but when he's not strapped into a board his obsession turns to fly fishing, specifically steelhead on the fly. In this exclusive cut for the F3T Eric and his cohorts trade pillow lines and big mountain spines for running lines and intruder flies… and swing up some monster fish in the process. The Return – KGB Productions • This beautifully shot piece will take you on a spellbinding venture into Yellowstone's famed Thorofare alongside some of the folks who have worked to save the native fish that make their home in this remote area of the park. What they find is a storied fishery on the rebound… and some truly massive cutthroat. Where it All Started – Liam Gallagher • Karlie Roland grew up fishing the Henry's Fork. It's where she became addicted to fly fishing and it's now where she gets to share her obsession with others. After pursuing guide gigs across the west, Karlie has made her way back to the Fork and the water where it all started. Kio Kio – Indifly/Costa Films • In the northwest corner of the Tuamotu Archipeligo of French Polynesia lies the tiny Anaa Atoll. The people who make their home on this long dormant rim of an underwater volcano are working to build an economy around the atoll's world-class flats fishing. The result is a fish population that is now seen by the locals as something that should be protected and promoted
Featured pour in our Art Bar: Oskar Blues.
Doors open at 6:00pm. 
Advance Tickets: $15 At-the-Door: $20