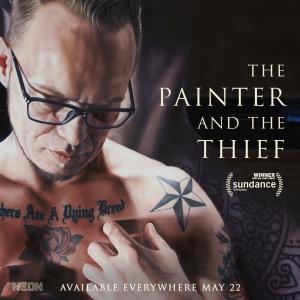 Friday, May 29 (All day)

to

Thursday, Jun 18 (All day)
VIRTUAL CINEMA OFFERING
OPENS FRIDAY MAY 29

Help support the Lincoln Theatre through this unique partnership with NEON!
The Lincoln and Neon are proud to bring another special virtual screening to you, at your own time, in your own home. On 5/22 you can rent the film The Painter & Thief, with a portion of the rental profits benefiting the Lincoln! From executive producer Morgan Neville (Won't You Be My Neighbor?), this film tells the story of a Czech artist, who while desperate for answers about the theft of her two paintings, seeks out and befriends the career criminal who stole them.
"The Painter and the Thief uses the unlikely bond between a criminal and his victim as the canvas for a compelling portrait of compassion and forgiveness." - Certified Fresh on Rotten Tomatoes
Director: Benjamin Ree
English, Norwegian | 2020 | Documentary | 102 minutes | NR 
$3.99 for a 72 hour rental period. 
50% of the proceeds from each ticket purchased will help support the Lincoln Theatre.
Please see brief instructions on how to watch the film at home, below, and thank you so much for your support. 
How to watch:
 1. Click our special link to visit NEON's virtual cinema platform, where your one-time purchase of $3.99 will give you access to your virtual ticket to view the film.
2. To ensure that you are able to pause and revisit the film within your rental period, you will be required to create a free Vimeo account.
3. After you have created an account and entered your payment information, your rental period will start immediately and last for 72 hours. You can view the film via the link in the receipt sent to your email, or simply click "Watch Film" when the confirmation page appears directly after purchase.
4. You will be able to easily watch the film at any time within this period on any of the following platforms:
a. SMART TV (using the browser on your Apple TV, Android TV, Fire TV, Roku or Chromecast)
b. MOBILE DEVICE (iPhone, iPad, Android)
c. COMPUTER (by clicking on the link in your email receipt)
5. Need help? Please visit the FAQ page or contact virtualcinema@neonrated.com