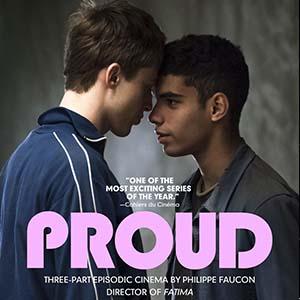 Friday, Jun 19 (All day)

to

Thursday, Jul 9 (All day)
QUARANTINE CINEMA OFFERING
AVAILABLE STARTING JUNE 19 FOR PRIDE MONTH

Philippe Faucon's Three-Part Mini-Series:
In 1981, it was still illegal to be gay in France. Today, same-sex marriage is recognized and has paved the way for legalizing the adoption of children by LGBTQ families. Proud tells the story of Charles, Victor and Diego, three generations of the same family who represent the seismic social changes that took place in just three decades. 
From the award-winning director of Fatima (the 2016 Cesar winner for Best Film), this three-part episodic cinema event is a chronology of tolerance and a portrait of one family through changing times. 
"A series that defends the fundamental rights of gay people." - Le Parisien
Director: Philippe Faucon
France | In French with English Subtitles | 2016 | Drama | 50 minutes (each episode) | NR 
$12 for a 5-day Pass.
50% of your ticket purchase directly supports the Lincoln Theatre, while the remainder support independent filmmaking & distribution.
HOW TO WATCH: TELEVISION (via the the downloaded APPLE TV or ANDROID app, or CHROMECAST) MOBILE DEVICE (iPhone, iPad, Android) | COMPUTER (by clicking on the link below).
For more information on how the rental works:
Click the button above, or follow THIS LINK to purchase entry to our digital screening room.
Create an account – it's very easy! – and complete your purchase, you can also gift a screening to a friend of family member.
Watch as much as you like for 5 days!
For any questions regarding streaming, device, connection, or payment issues, Kino Marquee can help you here.
For non-streaming questions, please feel free to reach out to us at admin@lincolntheatre.org