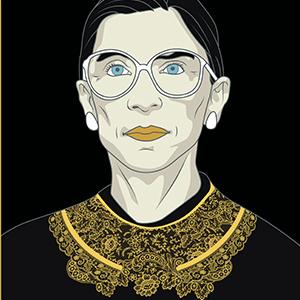 Friday, Sep 25 (All day)

to

Thursday, Oct 15 (All day)
QUARANTINE CINEMA OFFERING
AVAILABLE STARTING SEPTEMBER 25

In tribute to Justice Ruth Bader Ginsburg, RBG returns to the Lincoln Quarantine Cinema with streaming this time not a rental, but an actual purchase of the film ($6.99) that you will own and Magnolia Pictures will be donating all of their proceeds to the ACLU Women's Rights Project, which was co-founded by Justice Ginsburg in 1972. 
At the age of 85, U.S. Supreme Court Justice Ruth Bader Ginsburg has developed a lengthy legal legacy while becoming an unexpected pop culture icon. But the unique personal journey of her rise to the nation's highest court has been largely unknown, even to some of her biggest fans – until now. RBG explores Ginsburg's life and career.  From Betsy West and Julie Cohen, and co-produced by Storyville Films and CNN Films.
Certified Fresh on Rotten Tomatoes
"The life and work of the associate justice of the US Supreme Court, Ruth Bader Ginsburg (aka "the notorious RBG") is the subject of this dense, inspiring and often playful panegyric." - Kevin Mayer, Times UK
Director: Betsy West and Julie Cohen
USA | English | 2018 | Documentary | 97 minutes | PG 
$6.99 to own (not to rent). We're also going to include a nearly hour-long interview that was conducted via Zoom earlier this summer with Betsy West and Julie Cohen, the film's directors.
HOW TO WATCH: TELEVISION (via APPLE TV, ROKU, CHROMECAST, or downloaded app on your smart TV) | MOBILE DEVICE (iPhone, iPad, Android) | COMPUTER (by clicking on the streaming link).
For more information on how the rental works:
Click the "Buy Tickets" button above to purchase entry to our digital screening room.
Create an account – it's very easy! – and complete your purchase. 
For general help go to our Streaming Information Page HERE.
For any questions regarding streaming, device, connection, or payment issues, reach out directly streaming platform HERE.
For other questions, please feel free to reach out to us at admin@lincolntheatre.org