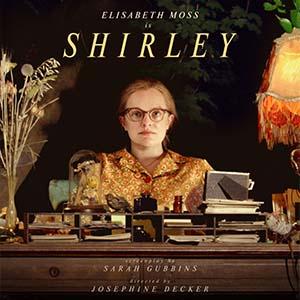 Friday, Jun 5 (All day)

to

Friday, Jul 31 (All day)
QUARANTINE CINEMA OFFERING
OPENS FRIDAY JUNE 5

Help support the Lincoln Theatre through this unique partnership with NEON!
Renowned horror writer Shirley Jackson (Elisabeth Moss) is on the precipice of writing her masterpiece when the arrival of newlyweds upends her meticulous routine and heightens tensions in her already tempestuous relationship with her philandering husband. The middle-aged couple, prone to ruthless barbs and copious afternoon cocktails, begins to toy mercilessly with the naïve young couple at their door.
"Elevated by outstanding work from Elisabeth Moss, Shirley pays tribute to its subject's pioneering legacy with a biopic that ignores the commonly accepted boundaries of the form" - Certified Fresh on Rotten Tomatoes
Director: Josephine Decker
United States | 2020 | Drama | 107 minutes | R 
$5.99 for a 72 hour rental period. 
Elisabeth Moss and director Josephine Decker will be joining us for a Q&A following a special online screening of their new film SHIRLEY on Saturday, June 27th at 4p PT! Buy a $12 ticket at JoinMovieNight.com to watch the Sundance award-winning film plus Q&A and choose the Lincoln Theatre to receive 50% of the proceeds, as well as make a donation! #JoinMovieNight @neonrated
50% of the proceeds from each ticket purchased will help support the Lincoln Theatre.
Please see brief instructions on how to watch the film at home, below, and thank you so much for your support. 
How to watch:
 1. Click our special link to visit NEON's virtual cinema platform, where your one-time purchase of $5.99 will give you access to your virtual ticket to view the film.
2. To ensure that you are able to pause and revisit the film within your rental period, you will be required to create a free Vimeo account.
3. After you have created an account and entered your payment information, your rental period will start immediately and last for 72 hours. You can view the film via the link in the receipt sent to your email, or simply click "Watch Film" when the confirmation page appears directly after purchase.
4. You will be able to easily watch the film at any time within this period on any of the following platforms:
a. SMART TV (using the browser on your Apple TV, Android TV, Fire TV, Roku or Chromecast)
b. MOBILE DEVICE (iPhone, iPad, Android)
c. COMPUTER (by clicking on the link in your email receipt)
5. Need help? Please visit the FAQ page or contact virtualcinema@neonrated.com