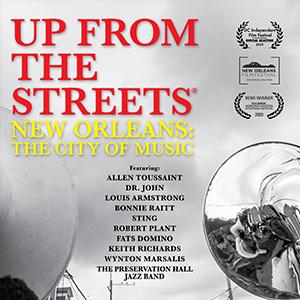 Friday, May 15 (All day)

to

Thursday, Jun 4 (All day)
VIRTUAL CINEMA OFFERING
AVAILABLE MAY 14, 2020 9:00PM

Help support the Lincoln Theatre through this unique partnership with Michael Murphy Productions and Eagle Rock Entertainment!
A feature length documentary that looks at the culture of New Orleans through the lens of music. New Orleans has a distinct history as a result of its political and social history. There is a thread that runs through the city that can be heard from the drumming at Congo Square in the 1700's through to today's vibrant music scene. The music of this city is a powerful form of expression. It was a vehicle to communicate a desire for freedom, express frustration of the injustices of segregation and Jim Crow laws, a healing force that helped bring the city back from the devastation of Hurricane Katrina, and is still a vital form of expression against ongoing cultural & racial biases. Executive Producer Terence Blanchard and Director Michael Murphy, show how the culture of the city is reflected in its music, how music impacts culture; and how even in the darkest of times, music lifts and unites.
Director: Michael Murphy
English | 2019 | Documentary | 104 minutes | NR 
$12 for a 72 hour rental period.
With each screening of UP FROM THE STREETS purchased, the Lincoln Theatre will receive 50% of the ticket price and the distributors and filmmakers receive the other 50%. Thank you for supporting the Lincoln!.
HOW TO WATCH: TELEVISION (via the the downloaded APPLE TV or ANDROID app, or CHROMECAST) MOBILE DEVICE (iPhone, iPad, Android) | COMPUTER (by clicking on the link below).
For more information on how the rental works:
Click the button above, or follow THIS LINK to purchase entry to our digital screening room for UP FROM THE STREETS for a $12 rental on Eventive's secure virtual screening room created just for patrons of the Lincoln Theatre.
Create an account – it's very easy! – and complete your purchase.
Watch as much as you like for 72 hours!
For any questions regarding streaming, device, connection, or payment issues, you will need to reference these links and reach out directly Eventive here.
For non-streaming questions, please feel free to reach out to us at admin@lincolntheatre.org