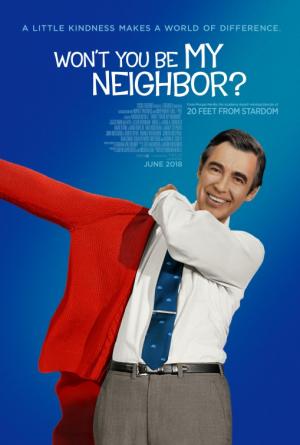 For over thirty years, Fred Rogers, an unassuming minister, puppeteer, writer and producer was beamed daily into homes across America. In his beloved television program, Mister Rogers' Neighborhood, Fred and his cast of puppets and friends spoke directly to young children about some of life's weightiest issues, in a simple, direct fashion. There hadn't been anything like Mr. Rogers on television before and there hasn't been since.
Though he may be best known today as a soft-spoken, cardigan-wearing children's television host, in reality, Fred Rogers' career represents a sustained attempt to present a coherent, beneficent view about how we should best speak to children about important matters and how television could be used as a positive force in our society.
In Won't You Be My Neighbor?, Academy Award-winning filmmaker Morgan Neville (Twenty Feet from Stardom) looks back on the legacy of Fred Rogers, focusing on his radically kind ideas. While the nation changed around him, Fred Rogers stood firm in his beliefs about the importance of protecting childhood. Neville pays tribute to this legacy with the latest in his series of highly engaging, moving documentary portraits of essential American artists.
Director: Morgan Neville
Cast: Joanne Rogers, Fred Rogers, Francois Clemmons
What the critics are saying:
"Won't You Be My Neighbor? takes a fittingly patient and honest look at the life and legacy of a television pioneer whose work has enriched generations." - Certified Fresh on Rotten Tomatoes
"This timely doc will resonate deeply with anyone who remembers Rogers befriending them from the small screen." - Michael Gingold, Time Out
"A poignant tribute to the mild-mannered father-figure who served as moral compass to generations." - Rafer Guzman, Newsday
The Lincoln Loves the Neighborhood! At each screening of "Won't You Be My Neighbor?" the Lincoln Theatre welcomes "our neighbors" and  community partners to take a few moments before the film to spotlight the many ways our neighbors benefit from these local agencies, and ways YOU can help.
League of Women Voters of Skagit County - Friday 8/3 - The League of Women Voters, a nonpartisan political organization, encourages the informed and active participation of citizens in government, and influences public policy through education and advocacy.
Skagit PFLAG - Saturday 8/4 - Their mission is to promote the health and well-being of gays, lesbians, bisexual, and TRANS* individuals, their families, and friends through support, education and advocacy.
The Skagit Civil Discourse Project - Sunday 8/5 - Building bridges of respect and trust in our community so we can work together to solve complex problems
Community Action of Skagit County - Monday 8/6 - Community Action is creating a spirit of hope by helping people help themselves and each other.
Volunteers of America Western Washington, Dispute Resolution Center of Skagit County - Tuesday 8/7 - Volunteers of America Dispute Resolution Center (DRC) is an alternative justice center with extensive experience as a mediation and training program. The DRC provides a wide range of professional and affordable conflict resolution services that include: Fair Housing and Landlord/Tenant Services, Large Group Facilitation, Mediation, Small Claims Court Mediation, Workplace Consultation, and a variety of customized training programs.
At each screening of "Won't You Be My Neighbor" Lincoln Theatre welcomes "our neighbors" and  community partners to take a few moments before the film to spotlight the many ways our neighbors benefit from these local agencies, and ways YOU can help.
 
Film Prices:
Lincoln Theatre Members get a $2 discount on the following prices:
General: $10.50
Seniors, Students and Active Military: $9.50
Children 12 and under: $8.00
Sunday Bargain Prices:
General: $9.00
Children 12 and under: $7.50
Add $2.00 to the above prices for 3D screenings
All prices include a $1.50 Preservation Fee that goes directly into our capital account for preservation of the Lincoln Theatre and its programs. 
 
Members have benefits: Click here for details