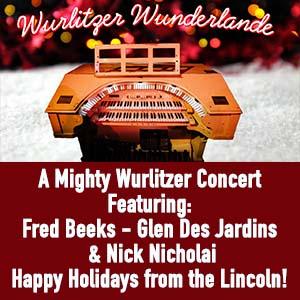 Thursday, Dec 24, 12:00 am

to

Sunday, Jan 3, 12:00 pm

A Free Holiday Treat from the Lincoln Theatre!

Feeling Moved to DONATE? Donations go to Wurlitzer maintenance.
A Free Holiday Treat from the Lincoln Theatre!
A Mighty Wurlitzer Concert Featuring:
Fred Beeks
Glen Des Jardins
Nick Nicholai
with a bonus link to Jingle Bells by Mariah Barrett and Glen Des Jardins!
Support for the series comes from Margaret and Allen Bird, and Cindi and Steve Olszewski, Mr. Don Wick, Dimensional Communications, Logan Creek and JRivera & Associates. A big thank you to to Colby and Brett from Dimensional Communications for their technical assistance. Virtual Portrait Support: Wendy and Roger Ragusa, Susan Wilson and Eric Hall, Duncan West and Mary Deaton.
The concerts will be streamed free on Youtube with donations accepted. Proceeds will be split 50/50 between the performers and the Lincoln Theatre Center Foundation.
Artists: Are you ready to get back on stage? Please email roger@lincolntheatre.org if you are interested in being a part of this series.
Sponsors: Would you like to help offset crew and licensing costs? Low cost sponsorships are available. Cilck HERE for a PDF to the sponsor agreement. Please email roger@lincolntheatre.org for more information.