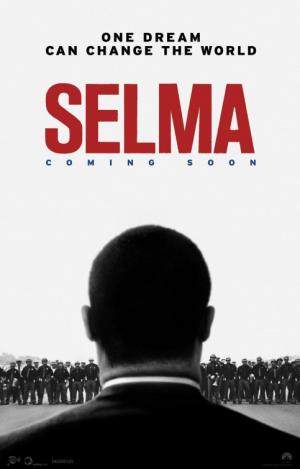 Saturday, Mar 14, 7:30 pm
In 1965, the eyes of the nation watched as thousands of ordinary people took to the streets of Selma to march for voting rights. This month marks the 50th anniversary of that historic march from Selma to Montgomery.
 
SELMA is the story of a movement. The film chronicles the tumultuous three-month period in 1965, when Dr. Martin Luther King, Jr. led a dangerous campaign to secure equal voting rights in the face of violent opposition. The epic march from Selma to Montgomery culminated in President Johnson (Tom Wilkinson) signing the Voting Rights Act of 1965, one of the most significant victories for the civil rights movement. Director Ava DuVernay's SELMA tells the real story of how the revered leader and  visionary Dr. Martin Luther King Jr. (David Oyelowo) and his brothers and sisters in the movement prompted change that forever altered history.
 
Director: Ava DuVernay
 
Starring: David Oyelowo, Andre Holland, Carmen Ejogo, Common, Giovanni Ribisi, Lorraine Toussaint, Tim Roth, Tom Wilkinson, and Wendell Pierce
 
What the critics are saying:
Certified Fresh on Rotten Tomatoes
 
"Fueled by a gripping performance from David Oyelowo, Selma draws inspiration and dramatic power from the life and death of Martin Luther King, Jr. -- but doesn't ignore how far we remain from the ideals his work embodied. "
St. Louis Post-Dispatch
Calvin Wilson
Oyelowo takes full advantage of his close physical resemblance to King, but he wisely avoids mere impersonation, delivering a performance that's as sensitive as it is spellbinding.
RogerEbert.com
Brian Tallerico
Working from a script by Paul Webb and aided by stark, beautiful, sometimes startlingly realistic cinematography by Bradford Young, DuVernay has delivered a powerful and moving portrait of Martin Luther King Jr.
Washington PostAnn Hornaday
There are several reasons to see Selma — for its virtuosity and scale, scope and sheer beauty. But then there are its lessons, which have to do with history, but also today: Selma invites viewers to heed its story, meditate on its implications and allow those images once again to change our hearts and minds
Admission Prices*:
General: $10.00
Seniors, Students and Active Military: $9.00
Members: $8.00
Children 12 and under: $7.00
Sunday Bargain Prices
General: $8.00
Members: $6.00
Children 12 and under: $5.00
Add $2.00 to the above prices for 3D screenings.
Your membership with the Lincoln Theatre saves you $2.00 per film ticket.
*All prices include a $1.50 Preservation Fee that goes directly into our capital account for preservation of the Lincoln Theatre and its programs. Film tickets are only available at the door beginning 45 minutes before the first screening of the day. This saves you, the ticket buyer the fees associated with purchasing online. Never fear – there are plenty of seats!
 
Monday film screenings are part of the Lincoln Theatre Member Mondays! Click here for details.
 
Film dates and times are subject to change and extended runs. Please check back here, or our phone message at 360.336.8955, day of show.