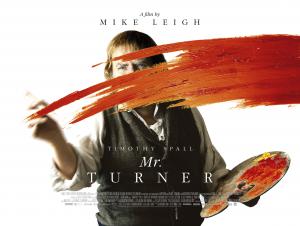 Saturday, Mar 21, 7:30 pm
Mr. Turner explores the last quarter century of the life of the great if eccentric British painter J.M.W. Turner (Timothy Spall). Profoundly affected by the death of his father, loved by a housekeeper he takes for granted and occasionally exploits sexually, he forms a close relationship with a seaside landlady with whom he eventually lives incognito in Chelsea, where he dies. Throughout this, he travels, paints, stays with the country aristocracy, visits brothels, is a popular if anarchic member of the Royal Academy of Arts, has himself strapped to the mast of a ship so that he can paint a snowstorm, and is both celebrated and reviled by the public and by royalty. 
 
 
Director: Mike Leigh
 
Starring: Timothy Spall, Amy Dawson, Dorothy Atkinson, Karl Johnson, Lesley Manville, Marion Bailey, Paul Jesson, Ruth Sheen, and Sandy Foster
 
What the critics are saying:
Certified Fresh on Rotten Tomatoes
 
"Led by a masterful performance from Timothy Spall and brilliantly directed by Mike Leigh, Mr. Turner is a superior Hollywood biopic."
Boston Globe
Ty Burr
A life is not plot; plot is not life. By scrupulously sticking not just to the accuracies of Turner's life as we know them but to the tiniest of details, the chipped mugs on kitchen tables, the pantaloons on a passing merchant, the spray of storm surf across the bow of a ship, Leigh wants us to truly see the world Turner moved through. Only by seeing that world can we see how he saw and painted it.
The Globe and Mail (Toronto)
Liam Lacey
Performances are still the heart of Leigh's work, and at the heart of this film is an extraordinary performance by Leigh's frequent collaborator, the British actor Timothy Spall.
NPR
Bob Mondello
Turner's painting of the scene, The Fighting Temeraire will, in fact, become his masterpiece. As Mr. Turner is Mike Leigh's — a growling, snuffling, earthy work of art, every frame worthy of framing.
Admission Prices*:
General: $10.00
Seniors, Students and Active Military: $9.00
Members: $8.00
Children 12 and under: $7.00
Sunday Bargain Prices
General: $8.00
Members: $6.00
Children 12 and under: $5.00
Add $2.00 to the above prices for 3D screenings.
 
Your membership with the Lincoln Theatre saves you $2.00 per film ticket.
 
*All prices include a $1.50 Preservation Fee that goes directly into our capital account for preservation of the Lincoln Theatre and its programs. Film tickets are only available at the door beginning 45 minutes before the first screening of the day. This saves you, the ticket buyer the fees associated with purchasing online. Never fear – there are plenty of seats!
 
Monday film screenings are part of the Lincoln Theatre Member Mondays! Click here for details.
 
Film dates and times are subject to change and extended runs. Please check back here, or our phone message at 360.336.8955, day of show.