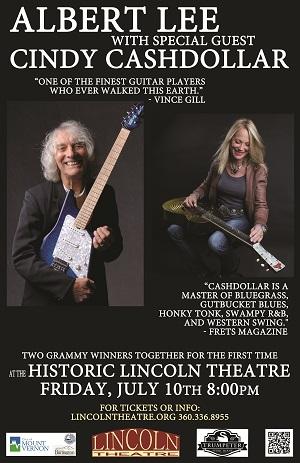 Friday, July 10, 2015 - 8:00pm
Advance Reserved Seating Tickets: $15 - $35
The Lincoln Theatre presents two Grammy-winners, together for the first time, guitarist Albert Lee and dobro/steel guitarist Cindy Cashdollar.
Albert Lee is "the guitar player's guitar player," universally recognized in music circles as one of the world's finest, as well as one of the top rockabilly guitarists in history. Albert has not only worked with some of the biggest names in music, like Eric Clapton, Emmylou Harris and the Everly Brothers, but has also maintained a solo career of his own.
"One of the finest guitar players who ever walked this earth…" - Vince Gill
Cindy Cashdollar has also worked with notable names such as Ryan Adams, Bob Dylan, Van Morrison, Rod Stewart and more. She received five Grammy awards while playing with Asleep at the Wheel. Cindy's unerring ability to perfectly complement a song or step out with an imaginative solo has made her one of the most in-demand musicians on the American roots music scene.
"Equally at home picking a vintage Dobro, an old National resonator guitar, or laying down fat horn voicings on a tripleneck 8-string steel, Cashdollar is a master of bluegrass, gutbucket blues, honky tonk, swampy R&B, and Western Swing." - Frets Magazine
And, in answer to her most frequently asked question, yes, Cashdollar is her real name.