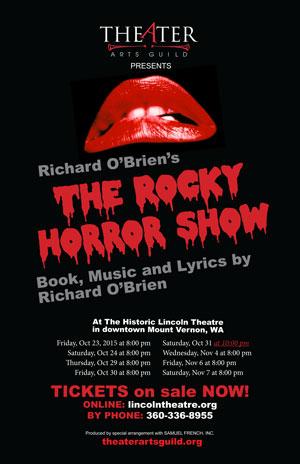 Friday, October 23, 2015 - 8:00pm
Saturday, October 24, 2015 - 8:00pm
Thursday, October 29, 2015 - 8:00pm
Friday, October 30, 2015 - 8:00pm
Saturday, October 31, 2015 - 10:00pm
Wednesday, November 4, 2015 - 8:00pm
Friday, November 6, 2015 - 8:00pm
Saturday, November 7, 2015 - 8:00pm
Tickets on Sale August 28
Theater Arts Guild presents Richard O'Brien's
The Rocky Horror Show
 Theater Arts Guild is excited to be bringing this cult classic show to the Lincoln stage to help celebrate the 40th anniversary of the movie that was written after the stage show and has the longest running release in film history!  It is a humorous tribute to the science fiction horror B movies of the late 1940s through to the early 1970s. The musical tells the story of a newly engaged couple getting caught in a storm and coming to the home of a mad  transvestite  scientist unveiling his new creation, a muscle man named Rocky. The catchy music will stay with you and we encourage you to join us in dancing to The Time Warp, audience participation shout outs, as well as coming in costume.
 
The show contains adult content so parental discretion is advised. 
 
Reserved Seating Tickets: $12.50, $17.50 and $25.00. Buy 10 or more tickets and receive a $2 discount!
 
Participation bags with be available for $5.00.