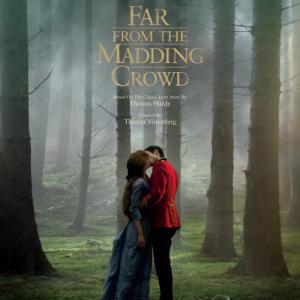 A headstrong Victorian beauty (Carey Mulligan) has her choice of three different suitors: a sheep farmer (Matthias Schoenaerts), a dashing soldier (Tom Sturridge) and a prosperous, older bachelor (Michael Sheen).
 
Director: Thomas Vinterberg
Starring:  Carey Mulligan, Michael Sheen, Matthias Schoenaerts and Tom Sturridge
 
Wurlitzer Organists:
Friday and Saturday: Fred Beeks
Sunday: Glen Des Jardins
Monday: Harvey Rossiter
 
What the critics are saying:
 
Certified Fresh on Rotten Tomatoes.
 
"Hot stuff for a period film set in the English countryside."
 
Peter Travers·Rolling Stone
 
"Far From the Madding Crowd passes a kind of reverse Bechdel test: Nearly every time two or more men converse, they are talking about a woman."
 
A. O. Scott·New York Times
 
"Ultimately, this is a romance, so our heroine never strays too far from the appointed path — and its swoony end — but the director also gives her space to explore."
 
Sara Stewart·New York Post
 
Admission Prices*:
General: $10.00
Seniors, Students and Active Military: $9.00
Members: $8.00
Children 12 and under: $7.00
 
Sunday Bargain Prices:
General: $8.00
Members: $6.00
Children 12 and under: $5.00
Add $2.00 to the above prices for 3D screenings.
Your membership with the Lincoln Theatre saves you $2.00 per film ticket.
 
*All prices include a $1.50 Preservation Fee that goes directly into our capital account for preservation of the Lincoln Theatre and its programs.
 
Film tickets are only available at the door beginning 45 minutes before the first screening of the day. This saves you, the ticket buyer the fees associated with purchasing online. Never fear, there are plenty of seats!
 
Monday film screenings are part of the Lincoln Theatre Member Mondays! Click here for details. Film dates and times are subject to change and extended runs. Please check back here, or our phone message at 360.336.8955, day of show.