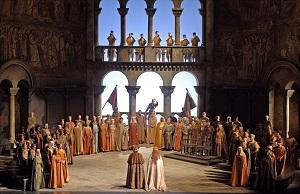 Saturday, Oct 31, 9:00 am
James Levine conducts the first Met revival of Wagner's Tannhäuser since 2004, seen in Otto Schenk's 1977 production. Johan Botha sings his first company performances of the demanding title role, in a cast that also includes Peter Mattei as Wolfram, his second Met Wagner role; Günther Groissböck as the Landgraf; and Eva-Maria Westbroek as Elisabeth and Michelle DeYoung as Venus, the human and divine rivals for Tannhäuser's affection.
Conductor: James Levine 
Production: Otto Schenk
Set Designer: Günther Schneider-Siemssen
Costume Designer: Patricia Zipprodt
Lighting Designer: Gil Wechsler
Choreographer: Norbert Vesak
Cast: Johan Botha (Tannhäuser), Eva-Maria Westbroek (Elisabeth), Michelle DeYoung (Venus), Peter Mattei (Wolfram), Günther Groissböck (Landgraf Hermann)
 
Stassya Pacheco returns for a pre-opera lecture prior to every Saturday live transmission, 30 minutes before the start time.  Also, Saturday operas offer the option of pre-ordering your lunch from Pacioni's Market.  Pre-order lunches are made up during the opera and ready for you to enjoy during the intermission. We will also have recorded encore screenings of all performances.
 
Tickets: $23 adults; $19 seniors; $16 students with $2 off for Lincoln Theatre Members. Discounted Season Passes available!
 
Tickets go on sale to MET members on July 17th and to the general public July 24th.