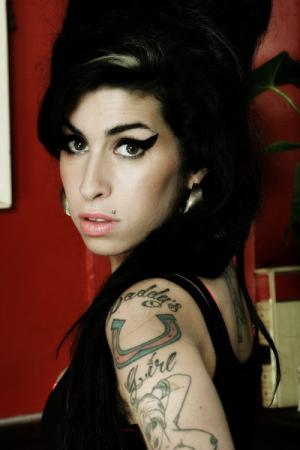 Saturday, Aug 15, 7:30 pm
Amy tells the story of six-time Grammy-winner Amy Winehouse – in her own words. A once-in-a-generation talent, Amy Winehouse was a musician that captured the world's attention. A pure jazz artist in the most authentic sense – she wrote and sung from the heart using her musical gifts to analyze her own problems. The combination of her raw honesty and supreme talent resulted in some of the most unique and adored songs of the modern era. Her huge success, however, resulted in relentless and invasive media attention which coupled with Amy's troubled relationships and precarious lifestyle saw her life tragically begin to unravel. Amy Winehouse died from alcohol poisoning in July 2011 at the age of 27.
 
Starring: Amy Winehouse, Mark Ronson, Mitch Winehouse, Mos Def, Pete Doherty
 
Director: Asif Kapadia
Wurlitzer Organists:
 
Friday and Saturday, August 14th and 15th: Fred Beeks
 
Sunday, August 16th: Glen Des Jardins
 
Monday, August 17: Nick Nicholai
 
What the critics are saying:
 
Philadelphia Inquirer, Steven Rea
 
"Asif Kapadia's extraordinary documentary, Amy, is filled with similarly soul-stirring, heartbreaking moments."
 
RogerEbert.com, Susan Wloszczyna
 
"This is the Amy Winehouse few of us ever got to witness, radiating cheeky self-confidence and finding joy in sharing her considerable gifts."
 
Los Angeles Times, Kenneth Turan
 
"It is the achievement of Amy, Asif Kapadia's accomplished, quietly devastating documentary, that it makes the story of this troubled and troubling individual surprisingly one of a kind by allowing us to, in a sense, live her life along with her."
 
Film Prices:
 
General: $10.00
Seniors, Students and Active Military: $9.00
Members: $8.00
Children 12 and under: $7.00
Sunday Bargain Prices:
General: $8.00
Members: $6.00
Children 12 and under: $5.00
Add $2.00 to the above prices for 3D screenings.
 
Your membership with the Lincoln Theatre saves you $2.00 per film ticket.
 
*All prices include a $1.50 Preservation Fee that goes directly into our capital account for preservation of the Lincoln Theatre and its programs.
 
Film tickets are only available at the door beginning 45 minutes before the first screening of the day. This saves you, the ticket buyer the fees associated with purchasing online. Never fear – there are plenty of seats! Monday film screenings are part of the Lincoln Theatre Member Mondays! Click here for details.
 
Film dates and times are subject to change and extended runs. Please check back here, or our phone message at 360.336.8955, day of show.