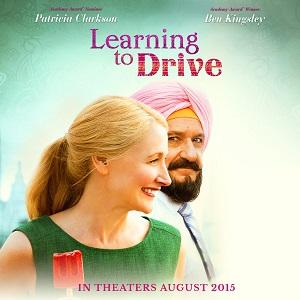 Saturday, Nov 14, 7:30 pm
 
Wendy (Patricia Clarkson) is a fiery Manhattan author whose husband has just left her for a younger woman; Darwan (Ben Kingsley) is a soft-spoken taxi driver from India on the verge of an arranged marriage. As Wendy sets out to reclaim her independence, she runs into a barrier common to many lifelong New Yorkers: she's never learned to drive. When Wendy hires Darwan to teach her, her unraveling life and his calm restraint seem like an awkward fit. But as he shows her how to take control of the wheel, and she coaches him on how to impress a woman, their unlikely friendship awakens them to the joy, humor, and love in starting life anew.
Director:  Isabel Coixet
 
Starring: Patricia Clarkson, Ben Kingsley, Grace Gummer and Samantha Bee
 
What the critics are saying:
 
Moira MacDonald
Seattle Times
 
It's a beautifully acted tale of friendship, and about how sometimes, you just need to move forward - in a car, or otherwise.
 
Philadelphia Inquirer
Steven Rea
 
A story of companionship, loneliness, resilience. It's a small, artfully crafted thing, but it resonates in big ways.
 
Detroit News
Tom Long
 
"Learning to Drive" is precisely the sort of adult-themed, intelligent and heartfelt film it wants to be, with Clarkson and Kingsley wonderfully on point.

Film Prices:
 
General: $10.00
Seniors, Students and Active Military: $9.00
Members: $8.00
Children 12 and under: $7.00
 
Sunday Bargain Prices:
 
General: $8.00
Members: $6.00
Children 12 and under: $5.00
 
Add $2.00 to the above prices for 3D screenings.
 
Your membership with the Lincoln Theatre saves you $2.00 per film ticket.
 
*All prices include a $1.50 Preservation Fee that goes directly into our capital account for preservation of the Lincoln Theatre and its programs. Film tickets are only available at the door beginning 45 minutes before the first screening of the day. This saves you, the ticket buyer the fees associated with purchasing online. Never fear – there are plenty of seats!
 
Monday film screenings are part of the Lincoln Theatre Member Mondays! Click here for details.
 
Film dates and times are subject to change and extended runs. Please check back here, or our phone message at 360.336.8955, day of show.