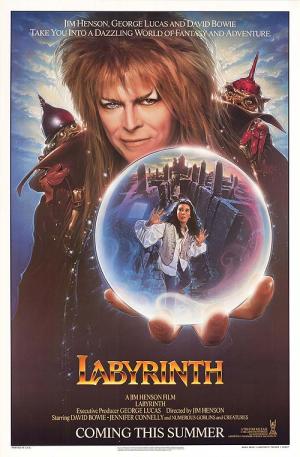 On Sunday, January 17th at 5:30pm the Lincoln screens Jim Henson's 1986 family classic LABYRINTH starring David Bowie.
 
Fifteen-year-old Sarah resents her baby brother Toby and secretly wishes that he will just disappear. Her wish comes true when goblins kidnap the boy. Feeling responsible and guilty about his abduction, she sets forth to retrieve him, and finds herself on the adventure of a lifetime. To rescue her brother, she must sneak into the castle of the Goblin King, which is in the center of a fantastical labyrinth. But, the task is easier said than done, for the maze is filled with strange creatures and mind-bending puzzles, and nothing is really as it seems. "If, like most of its fans who caught up with the film through VHS and afternoon television airings on the ABC, then seeing it on the big screen will surely rank as one of the most eye-opening, fantastical experiences of the year.", Glenn Dunks, Trespass. LABYRINTH is directed by Jim Henson, stars David Bowie and Jennifer Connelly, is rated PG and runs for 101 minutes.
 
Sunday Bargain Prices:
 
General: $8.00
Members: $6.00
Children 12 and under: $5.00
 
 
Your membership with the Lincoln Theatre saves you $2.00 per film ticket.
 
*All prices include a $1.50 Preservation Fee that goes directly into our capital account for preservation of the Lincoln Theatre and its programs. Film tickets are only available at the door beginning 45 minutes before the first screening of the day. This saves you, the ticket buyer the fees associated with purchasing online. Never fear – there are plenty of seats!
 
Monday film screenings are part of the Lincoln Theatre Member Mondays! Click here  for details.
 
Film dates and times are subject to change and extended runs. Please check back here, or our phone message at 360.336.8955, day of show.