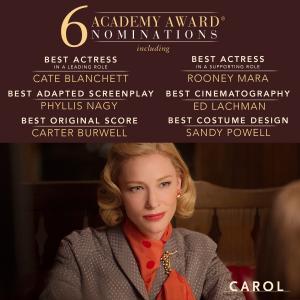 Saturday, Feb 13, 7:30 pm
Set in 1950s New York, two women from very different backgrounds find themselves in the throes of love. A young woman in her 20s, Therese Belivet (Rooney Mara), is a clerk working in a Manhattan department store and dreaming of a more fulfilling life when she meets Carol (Cate Blanchett), an alluring woman trapped in a loveless, convenient marriage. As an immediate connection sparks between them, the innocence of their first encounter dims and their connection deepens. While Carol breaks free from the confines of marriage, her husband (Kyle Chandler) threatens her competence as a mother when Carol's involvement with Therese and close relationship with her best friend Abby (Sarah Paulson) comes to light. As Carol leaves the comfort of home to travel with Therese, an internal journey of self-discovery coincides with her new sense of space.
 
Starring:  Cate Blanchett, Rooney Mara, Cory Michael Smith, Jake Lacy, John Magaro, Kyle Chandler,  and Sarah Paulson.
 
Director: Todd Haynes
 
What the critics are saying:
The Seattle Times
Moira Macdonald
 
You leave the film's soft-grained world reluctantly, as if taking off a warm coat when it's still a little chilly inside.
 
Total Film
Kevin Harley
 
Under Haynes' sure hand, Blanchett and Mara deliver a love story to melt to. Every glance means something, no strain shows: it's filmmaking as natural as breathing.
 
indieWIRE
Eric Kohn
 
A nuanced tale of mutual attraction that reflects a filmmaker and cast operating at the height of their powers, rendering complex circumstances in strikingly personal terms.
 
At the Mighty Wurlitzer:
 
Friday; Harvey Rossiter
Saturday; Fred Beeks
Sunday; Fred Beeks
Monday; Harvey Rossiter
 
Film Prices:
 
General: $10.00
Seniors, Students and Active Military: $9.00
Members: $8.00
Children 12 and under: $7.00
 
Sunday Bargain Prices:
 
General: $8.00
Members: $6.00
Children 12 and under: $5.00
 
Add $2.00 to the above prices for 3D screenings.
 
Your membership with the Lincoln Theatre saves you $2.00 per film ticket.
 
*All prices include a $1.50 Preservation Fee that goes directly into our capital account for preservation of the Lincoln Theatre and its programs. Film tickets are only available at the door beginning 45 minutes before the first screening of the day. This saves you, the ticket buyer the fees associated with purchasing online. Never fear – there are plenty of seats!
 
Monday film screenings are part of the Lincoln Theatre Member Mondays! Click here  for details.
 
Film dates and times are subject to change and extended runs. Please check back here, or our phone message at 360.336.8955, day of show.