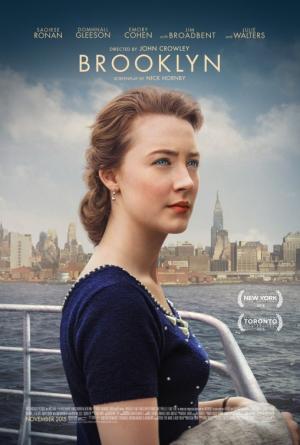 Saturday, Feb 20, 7:30 pm
Eilis Lacey (Saoirse Ronan) is a young Irish immigrant navigating her way through 1950s Brooklyn. Lured by the promise of America, Eilis departs Ireland and the comfort of her mother's home for the shores of New York City. The initial shackles of homesickness quickly diminish as a fresh romance sweeps Eilis into the intoxicating charm of love. But soon, her new vivacity is disrupted by her past, and she must choose between two countries and the lives that exist within.
 
Starring:   Jim Broadbent, Julie Walters, Saoirse Ronan
 
Director: John Crowley
What the critics are saying:
Total Film
Phillip Kemp
 
Colm Tóibín's bitter-sweet novel of the Irish expat experience brought impeccably to the screen by Crowley and Hornby, with Saoirse Ronan excelling herself in the lead.
   
Christian Science Monitor
Peter Rainer
 
It's possible to be heartwarming and tough-minded, as this wonderful film demonstrates. And it's possible to be both "old-fashioned" and vibrant, too. It's the best new/old movie in town.
Miami Herald
Connie Ogle
 
With compassion, a touch of melancholy and a sense of wonder, Brooklyn reveals the profound truths in a simple, familiar story, ending on a note that's achingly bittersweet, no matter where you're from.
 
Boston Globe
Ty Burr
 
Crowley and his creative team — cinematographer Yves Bélanger, designer François Séguin, composer Michael Brook, costume designer Odile Dicks-Mireaux — build a cinematic snow-globe of nostalgia, a portrait of two worlds that aches with family lost and freedoms found. It is a beautiful film to experience.
Portland Oregonian
Jeff Baker
 
All involved bring a warm eccentricity that lifts what in lesser hands could be a collection of cliches about the contrasts between the Old World and the New.
  
Film Prices:
 
General: $10.00
Seniors, Students and Active Military: $9.00
Members: $8.00
Children 12 and under: $7.00
 
Sunday Bargain Prices:
 
General: $8.00
Members: $6.00
Children 12 and under: $5.00
 
Add $2.00 to the above prices for 3D screenings.
 
Your membership with the Lincoln Theatre saves you $2.00 per film ticket.
 
*All prices include a $1.50 Preservation Fee that goes directly into our capital account for preservation of the Lincoln Theatre and its programs. Film tickets are only available at the door beginning 45 minutes before the first screening of the day. This saves you, the ticket buyer the fees associated with purchasing online. Never fear – there are plenty of seats!
 
Monday film screenings are part of the Lincoln Theatre Member Mondays! Click here  for details.
 
Film dates and times are subject to change and extended runs. Please check back here, or our phone message at 360.336.8955, day of show.