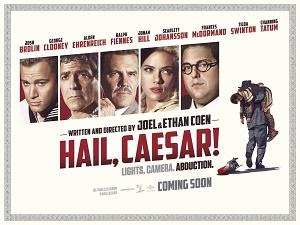 Saturday, Apr 16, 7:30 pm
Starring: Channing Tatum, Frances McDormand, George Clooney, Jonah Hill, Josh Brolin, Ralph Fiennes, Scarlett Johansson, Tilda Swinton
 
Director: Joel Coen and Ethan Coen
 
In the early 1950s, Eddie Mannix is busy at work trying to solve all the problems of the actors and filmmakers at Capitol Pictures. His latest assignments involve a disgruntled director, a singing cowboy, a beautiful swimmer and a handsome dancer. As if all this wasn't enough, Mannix faces his biggest challenge when Baird Whitlock gets kidnapped while in costume for the swords-and-sandals epic "Hail, Caesar!" If the studio doesn't pay $100,000, it's the end of the line for the movie star.Packed with period detail and perfectly cast, Hail, Caesar! finds the Coen brothers delivering an agreeably lightweight love letter to post-war Hollywood.
What the critics are saying:
 
The New Yorker, Richard Brody
 
A comedy, and a scintillating, uproarious one, filled with fast and light touches of exquisite incongruity in scenes that have the expansiveness of relaxed precision, performed and timed with the spontaneous authority of jazz.
 
Los Angeles Times, Kenneth Turan
 
The great thing about Hail, Caesar! is that it is fun whether you get all its references or not.
 
Entertainment Weekly, Leah Greenblatt
 
It's Coen lite, basically, but still filled with their best signatures: cracked humor, indelible characters, and cinematography so rich and saturated you want to dunk a cookie in it.
 
Philadelphia Inquirer, Steven Rea
 
A goofy conflation of Coenian elements: the numbskull huggermugger of "The Big Lebowski", the La La Land surrealness of "Barton Fink", the Old Testament overlay of "A Serious Man."
 
Film Prices:
 
General: $10.00
Seniors, Students and Active Military: $9.00
Members: $8.00
Children 12 and under: $7.00
 
Sunday Bargain Prices:
 
General: $8.00
Members: $6.00
Children 12 and under: $5.00
 
Add $2.00 to the above prices for 3D screenings.
 
Your membership with the Lincoln Theatre saves you $2.00 per film ticket.
 
*All prices include a $1.50 Preservation Fee that goes directly into our capital account for preservation of the Lincoln Theatre and its programs.
 
Film tickets are only available at the door beginning 45 minutes before the first screening of the day. This saves you, the ticket buyer the fees associated with purchasing online. Never fear – there are plenty of seats!
 
Film dates and times are subject to change and extended runs. Please check back here, or our phone message at 360.336.8955, day of show.