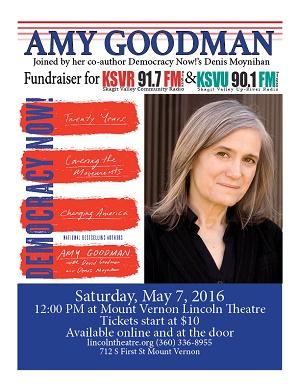 Saturday, May 7, 2016 - 12:00pm
$20 1st section;$16 2nd section; $8.50 3rd section: $5.50 4th section
Amy Goodman will speak here as part of her 20th Anniversay 100-city tour, and is donating all proceeds to Skagit Valley College radio stations KSVR-FM and KSVU-FM.
 
During this 2016 election season, Democracy Now!'s Amy Goodman is on a North American speaking tour to mark the 20th anniversary of the daily, independent, global TV/Radio news hour. Join us at the Lincoln to help raise critical funds for your public community radio stations serving Skagit County, with all proceeds going to KSVR-FM and KSVU-FM.
 
 
Booksigning to follow.