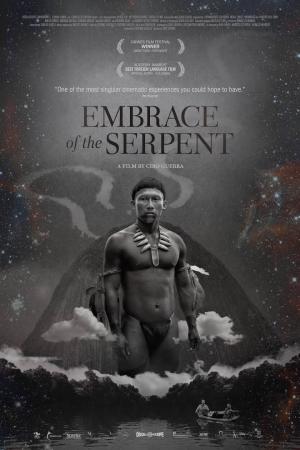 Running Time: 125 minutes
Embrace of the Serpent centers on Karamakate, an Amazonian shaman and the last survivor of his people, and the two scientists who, over the course of 40 years, build a friendship with him. The film was inspired by the real-life journals of two explorers (Theodor Koch-Grünberg and Richard Evans Schultes) who traveled through the Colombian Amazon during the last century in search of the sacred and difficult-to-find psychedelic Yakruna plant.
 
Colombian director Ciro Guerra's Embrace of the Serpent is a legitimate stunner, a river-trip that will mesmerize and jack with you, leaving you not quite certain, at its end, how to go about the rest of your day.
 
Alan Scherstuh, Village Voice
 
Starring: Antonio Bolivar, Brionne Davis, Jan Bijvoet, Luigi Sciamanna, Nicolas Cancino, Nilbio Torres, and Yauenku Migue.
 
Director: Ciro Guerra
 
What the critics are saying:
 
The Guardian
Jordan Hoffman
 
Ciro Guerra's gorgeous picture just has that ripped-from-your-dreams sensibility, where surprising turns float alongside a story you feel like you've known your whole life. Embrace of the Serpent is the type of film we're always searching for, yet seems so obvious once we've found it.
 
The New York Times
Stephen Holden
 
Viewed largely through the aggrieved eyes of a shaman whose tribe is on the verge of extinction at the hands of Colombian rubber barons in the 19th and 20th centuries, Embrace of the Serpent, a fantastical mixture of myth and historical reality, shatters lingering illusions of first-world culture as more advanced than any other, except technologically.
 
 
Film Prices:
 
General: $10.00
Seniors, Students and Active Military: $9.00
Members: $8.00
Children 12 and under: $7.00
 
Sunday Bargain Prices:
 
General: $8.00
Members: $6.00
Children 12 and under: $5.00
 
Add $2.00 to the above prices for 3D screenings.
 
Your membership with the Lincoln Theatre saves you $2.00 per film ticket.
 
*All prices include a $1.50 Preservation Fee that goes directly into our capital account for preservation of the Lincoln Theatre and its programs. Film tickets are only available at the door beginning 45 minutes before the first screening of the day. This saves you, the ticket buyer the fees associated with purchasing online. Never fear – there are plenty of seats!
 
Members have benefits: Click here for details.
 
Film dates and times are subject to change and extended runs. Please check back here, or our phone message at 360.336.8955, day of show.