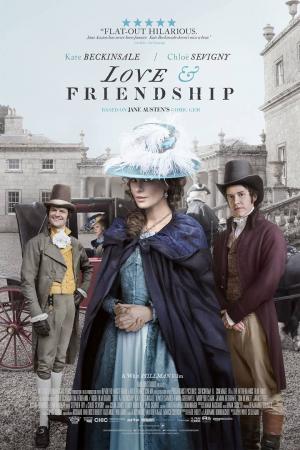 Beautiful young widow Lady Susan Vernon visits the estate of her in-laws to wait out the colorful rumors about her dalliances circulating through polite society. While ensconced there, she decides to secure a husband for herself and a future for her eligible but reluctant daughter, Frederica. In doing so she attracts the simultaneous attentions of the young, handsome Reginald DeCourcy, the rich and silly Sir James Martin and the divinely handsome, but married, Lord Manwaring, complicating matters severely.
 
Starring: Chloë Sevigny, Emma Greenwell, Kate Beckinsale, and Xavier Samuel
 
Director: Whit Stillman
 
At the Wurlitzer:
 
Friday, July 8th  Fred Beeks
Saturday, July 9th  Nick Nicolai 
Sunday, July 10th Glen Des Jardins
Monday, July  11th Harvey Rossiter
 
What the critics are saying:
 
New York Post,
Farran Smith Nehme
 
The sharpest, least sentimental and possibly the best version of Austen yet.
 
Arizona Republic,
Bill Goodykoontz
 
It's a joy to watch Beckinsale attack the material — Lady Susan is one of those people whose interest in themselves and their own well-being is so great that it becomes contagious.
 
Rolling Stone,
Peter Travers
 
I can't think of a more wickedly modern romantic comedy.
 
New York Magazine (Vulture),
David Edelstein
 
Only the generic title disappoints. Leo Rockas, who turned Lady Susan's epistles into an Austen-esque novel, suggests Flirtation and Forbearance or Coquetry and Caution. But by any title this is a treat.
 
Film Prices:
 
General: $10.00
Seniors, Students and Active Military: $9.00
Members: $8.00
Children 12 and under: $7.00
 
Sunday Bargain Prices:
 
General: $8.00
Members: $6.00
Children 12 and under: $5.00
 
Add $2.00 to the above prices for 3D screen
 
Your membership with the Lincoln Theatre saves you $2.00 per film ticket. *All prices include a $1.50 Preservation Fee that goes directly into our capital account for preservation of the Lincoln Theatre and its programs.
 
Film tickets are only available at the door beginning 45 minutes before the first screening of the day. This saves you, the ticket buyer the fees associated with purchasing online. Never fear – there are plenty of seats!
 
Members have benefits: Click here for details.
 
Film dates and times are subject to change and extended runs. Please check back here, or our phone message at 360.336.8955, day of show.