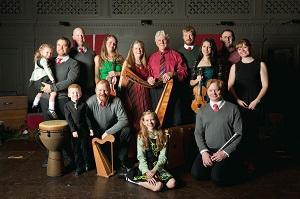 Sunday, December 11, 2016 - 3:00pm
Reserved Seating Tickets: $26 1st Section, $23 2nd Section, $20 3rd Section, $17 4th Section, plus applicable fees. Seniors, Students and Children receive $2 off ticket prices and Lincoln Theatre members receive an additional $2 off!
Magical Strings Celebrates 38 Years of Celtic Yuletide Concerts!
 
Welcome to the timeless realm of Celtic Yuletide!  Three generations of the Boulding family will set the stage ablaze with the Tara Academy Irish Dancers, lively fiddling of Jocelyn Pettit, soulful songs with brilliant Dublin guitarist Colm MacCarthaigh and dynamic percussionist Matt Jerrell.  Philip and Pam's Celtic harp and hammered dulcimer will sing mysteries from their recent sojourn in Ireland, augmented by cello, violin, whistles, accordion and concertina.  This festive gala of music, dance, storytelling, juggling, and songs of the season brings warmth and joy into the heart of winter.  Don't miss it!
 "Uplifting"  "Brilliant!"  "Enchanting" 
 
Philip and Pam Boulding founded Magical Strings in 1978, the same year that they began the tradition of Celtic Yuletide Concerts with their family. They have performed throughout the United States, Canada, Ireland and Japan, toured and recorded with Dan Fogelberg, appeared on Garrison Keillor's "A Prairie Home Companion," and recorded 18 albums on four labels.  Often referred to by local media as the "Von Trapps of the Northwest", their love of music is embraced by all five of their grown children, who each year return home from the east coast to join the band for the final weekend of Yuletide Concerts.  Their daughter Brittany, a virtuoso violinist, moved from New York City back to the Northwest where she plays with the Seattle Symphony, is Associate Concertmaster of Pacific Northwest Ballet Orchestra, concertmaster of both the Northwest sinfoneta(SP) and Auburn Symphony.  She is also a member of the acclaimed Finisterra Trio, which will be featured at this year's Seattle show at Town Hall.  Philip and Pam also design and build Celtic harps, run the School of Magical Strings, and host the Magic Hill Summer Harp Camp, and Summer Fairy School on their beautiful 5-acre home overlooking the Puget Sound.