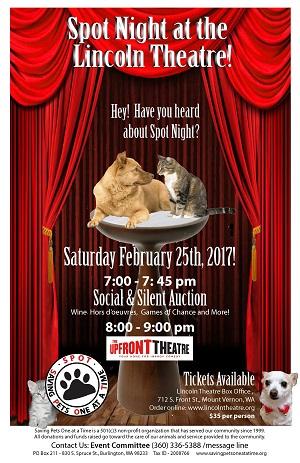 Saturday, February 25, 2017 - 7:00pm
Tickets: $35 + applicable fees
We are excited about this year's event. The evening will consist if a Social hour starting at 7PM with a silent auction, Wine & Hors d'oeuvres, Games of Chance and more. At 8PM the Upfront Theatre presents an hour of improv comedy that is inspired from audience suggestions and participation.
 
Every day volunteers with S.P.O.T. save the lives of unwanted, abandoned, and injured cats and dogs. We partner with other agencies in Washington to help shelter animals that are facing euthanasia as well as assist local cities with stray dogs and cats. S.P.O.T. also accepts pets from owners who can no longer care for them. Many distraught owners are grateful for the reassurance that their pets will be fostered by caring volunteers until a new home is found. Adoptive families from across the state write to share stories and photos of their new pets. They often express gratitude to S.P.O.T. volunteers for the pet that is bringing joy and companionship into their lives
.
For a more direct sponsorship of our efforts to care for and rehome rescued pets, S.P.O.T. provides an option for donations on our website. 
Fundraising Makes It Possible
 
The financial support needed to continue rescuing, caring for and finding permanent homes for unwanted and surrendered pets comes from community benefactors, patrons and people like you.
 
This Annual Fundraising event is a primary source of income for the year. With your support, our goal is to raise enough to ensure that core programs and animal care will be funded through 2017. Start by marking the date on your calendar and planning to attend.
 
Please visit the Saving Pets One at a Time website at www.savingpetsoneatatime.org. (S.P.O.T. is a 501 c3 non-profit organization. All financial donations are receipted and greatly appreciated.)
 
Your presence and support is all we need to make this evening a huge success. THANK YOU!