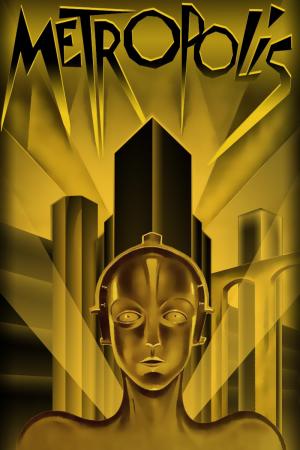 Saturday, Apr 15, 7:30 pm
Our Spectacular, Spectacular series of films meant to be seen on the big screen (not on your portable device) opens with Metropolis on our 91st Anniversary!
The screening  will be accompanied on the Mighty Wurlitzer! Fred Beeks, Harvey Rossiter, and Katie Moyer will perform during the pre-show. 
We'll wrap up the evening with Birthday Cake and refreshments.
All of this entertainment for our opening night price of only 35 cents! Arrive early! 
This evening's festivities are sponsored by Fred & Eva Beeks.
In the futuristic year of 2026, in the city of Metropolis, wealthy industrialists reign from high-rise tower complexes, while underground-dwelling workers toil to operate the underground machines that power the city. Joh Fredersen is the city's master. His son Freder idles away his time in a pleasure garden, but is interrupted by the arrival of a young woman named Maria, who has brought a group of workers' children to witness the lifestyle of the rich. Maria and the children are ushered away, but Freder, fascinated, goes to the machine rooms to find her. Witnessing the explosion of a huge machine that kills and injures several workers, he hurries to tell Fredersen about the accident. Grot, foreman of the Heart Machine, brings to Fredersen secret maps found on the dead workers. Freder secretly rebels against Fredersen by deciding to help the workers, after seeing his father's cold indifference towards the harsh conditions they face.
We will be screening to complete restored 2010 version of Metropolis with 30 additional minutes of restored footage.
Metropolis was filmed in 1926 and set 100 years in the future! We're hoping to bring it back for our 100th Anniversary in 2026.
Confirmed so far: Metropolis on April 15, Amelie on May 20, and Lawrence of Arabia, date TBD!.