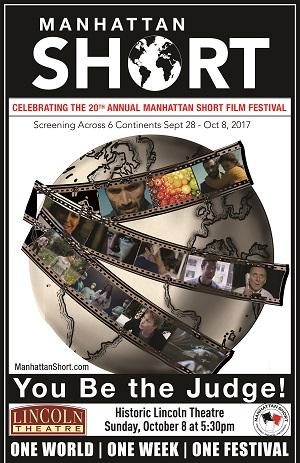 Latest News: Filmgoers in the Skagit Valley can unite with over 100,000 film-lovers around the world during the week of Sept 28 - Oct 8 when the 20th Annual MANHATTAN SHORT Film Festival screens at the Lincoln Theatre on Sunday, October 8 at 5:30pm.
Record Number of Entries:
The 10 MANHATTAN SHORT finalists hail from nine countries with films from Syria, Latvia and Georgia representing their respective countries for the first time in this event. Two short films hail from Spain, the only country with multiple Final 10 selections. These Final 10 short films represent the best short films among a record 1615 submissions from 75 countries received by MANHATTAN SHORT for 2017, testimony to the enduring vibrancy and creativity of short films. This year's Final 10 represent an extraordinary range of film genres with comedy, drama, horror, sci-fi, animation and martial arts short films all part of the MANHATTAN SHORT program.
The Final 10 are:
Do No Harm (New Zealand), Behind (Spain), Fickle Bickle (USA), Hope Dies Last (United Kingdom) The Perfect Day (Spain), Just Go! (Latvia), Mare Nostrum (Syria), Viola, Franca (Italy), In a Nutshell (Netherlands) 8 Minutes (Georgia).
You Be the Judge!
Which of these 10 short films is the best? That's up to a worldwide audience to decide. Cinema-goers across the United States and around the globe will become instant film critics as they are handed a ballot upon entry that allows them to vote for the Best Film and Best Actor. MANHATTAN SHORT is the ultimate audience award that salutes the creative talents of both directors behind the camera and actors in front of it. Votes will be sent through to MANHATTAN SHORT HQ with the winner announced at ManhattanShort.com on Monday Oct 9, at 10AM EST.
MANHATTAN SHORT LOVES OSCAR! Finalists will be part of the MANHATTTAN SHORT Oscar Qualifying Run. This means all selected films will screen for a full week at a cinema in the county of Los Angeles. This run qualifies every film selected in MANHATTAN SHORT for the Oscars.
MANHATTAN SHORT FILMS HAVE BEEN TO THE OSCARS BEFORE! Many past Finalists from MANHATTAN SHORT have been nominated for an Oscar (SHOK and Bear Story from 2015, to name just two). Our audiences and cinemas love nothing more than seeing a film they voted for at MANHATTAN SHORT at the Oscars. Once a nominee is announced, our partnering cinemas and loyal audiences champion those films and filmmakers through social media all the way to the podium!
Tickets:
General: $10.50
Seniors, Students and Active Military: $9.50
Children 12 and under: $8.00
+ applicable fees.
Lincoln Theatre Members get a $2 discount .