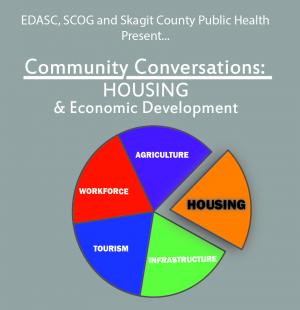 You are invited to join a Skagit County Community Conversation on November 9, when the Skagit Council of Governments (SCOG) and Skagit County Public Health and Housing department will be presenting data, ideas and opportunities related to housing in Skagit County.
SCOG Executive Director Kevin Murphy will present the findings of and discuss his thoughts on the recently published county-wide housing study commissioned by the SCOG board.  EDASC CEO John Sternlicht will discuss the housing needs of county employers and economic impact of available housing for economic development, in addition to sharing his thoughts on several nationally recognized housing initiative benchmarks.  Kayla Schott-Bresler from the Skagit County Housing, Homeless Services, & Community Development Office will discuss the opportunities and limitations of public policy levers in support of increasing the housing stock, as well as county-level efforts currently in motion to mitigate the current housing crisis.  A panel of real estate, development and public policy stakeholders will discuss housing issues and opportunities from their perspective and take questions from the audience.
This meeting will take place on November 9 from 7:00 p.m. to 8:30 p.m. at the Lincoln Theater, 712 S. 1st Street, Mount Vernon.  For more information, contact Andrew Miller, EDASC Director of Business Retention and Expansion, at andrew@skagit.org. 
This is a free community event.