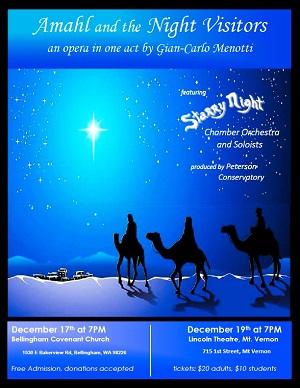 Tuesday, December 19, 2017 - 7:00pm
Advance Tickets: $20 Adults; $10 Students + applicable fees.
Amahl and the Night Visitors is one of the most beloved musical experiences of the holidays. It was written in 1954 for television by Gian-Carlo Menotti, whose operas form a body of work that is distinctively American. However, this charming one -act opera to be performed December 19 at Lincoln Theatre, was created from the remembrance of Menotti's childhood in Italy!
Three Kings bearing gifts are on their journey to Bethlehem, when they stop for rest at the home of a widow and her young son, who is who is lame.
The actions of the characters alternate between humor and pathos in the most engaging way, over gorgeous contemporary music, performed by the Starry Night Chamber Orchestra, which has been providing excellent classical music in the Skagit Valley and beyond for over 20 years. This is the perfect family outing to celebrate the holidays, with something for everyone!