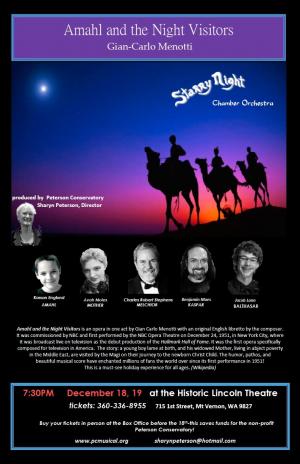 Tuesday, December 18, 2018 - 7:30pm
Wednesday, December 19, 2018 - 7:30pm
Advance Festival Seating Tickets: $22 Adults; $10 Students 16 and under.
The Peterson Conservatory presents Amahl and the Night Visitors an opera in one act by Gian-Carlo Menotti featuring the Starry Night Chamber Orchestra and directed by Sharyn Peterson.
Amahl and the Night Visitors is an opera in one act by Gian Carlo Menotti with an original English libretto by the composer. It was commissioned by NBC and first performed by the NBC Opera Theatre on December 24, 1951, in New York City, where it was broadcast live on television as the debut production of the Hallmark Hall of Fame. It was the first opera specifically composed for television in America.
The story: A young boy lame at birth, and his widowed Mother, living in abject poverty in the Middle East, are visited by the Magi on their journey to the newborn Christ Child. The humor, pathos, and beautiful musical score have enchanted millions of fans the world over since its first performance in 1951!
This is a must-see holiday experience for all ages.
Featured performers include:
Karson Englund as Amahl
Avah Moles as Mother
Charles Robert Stephens as Melchior
Benjamin Maes as Kaspar
Jacob Lann as Balthasar