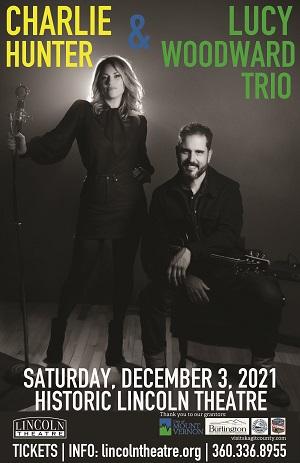 Friday, December 3, 2021 - 8:00pm
Advance Reserved seating Tickets: $35 1st Section; $30 2nd Section; $25 2nd Section; $20 3rd Section + applicable fees. All ticket prices include a $2 preservation fee.
THIS SHOW HAS BEEN RESCHEDULED (TWICE) FROM JUNE 19, 2020 AND DECEMBER 5 2020 and now CANCELLED.
WE REALLY TRIED TO WORK THIS ONE OUT BUT LUCY COULD NOT GET OUT OF A COMMITMENT MADE BEFORE COVID. ALL TICKETS PURCHASED FOR THAT PERFORMANCE CAN BE REFUNDED/CREDITED/DONATED. CONTACT OUR BOX OFFICE AT 360.336.8955 WITH YOUR CHOICE.
The musical partnership of guitarist Charlie Hunter and vocalist Lucy Woodward was forged under inauspicious, curveball-icious circumstances. In January 2018, shortly before he was scheduled to hit the road for a west coast tour with Mexican singer-songwriter Silvana Estrada, Hunter got word that Estrada's visa had been denied by the U.S. Department of Homeland Security. Needing an emergency vocalist for the dates, Hunter reached out to Woodward, whom he knew through their mutual friends in the jazz/funk collective Snarky Puppy. 
"It was about four days before the tour," Woodward remembers. "A mutual friend connected us, saying, 'Why don't you get Lucy to jump on it?'" Woodward, fresh off supporting her fourth solo album, 2016's Til They Bang on the Door, was game; but she also knew that they only had a few days to build an entire set list. "Silvana's a guitar player, and they were going to do all songs that she wrote, which were in Spanish, so it wasn't like I was going to 'fill in' for her," she explains. "Charlie said, 'I come from blues, you come from blues — let's just start with the blues.' Once we decided to go that route, he started sending me links to Blind Willie Johnson and Bessie Smith tunes, things from the early Twenties. And he was like, 'What songs have you always wanted to do?' We went back and forth with about thirty ideas, and came up with a set, had like a two-hour rehearsal, and did our first show the same day."
 "Musically, culturally, we just hit it off," raves Hunter. "Lucy's a great singer, a good all-around human, and she was totally up for the adventure." Each night on the tour became an exhilarating high-wire walk for the two artists as they navigated the melodies, grooves and spaces of the songs they were covering, with arrangements that they'd often just cooked up on the way to the gig. "It was so organic," Woodward recalls. "You'd have an idea in the car, and it would be like, 'Hey, let's try this song tonight! Let's just find the key and go!' That whole tour was just full of surprises. Everything was just so natural, and every place we played, Charlie's audiences were so wonderful. They love to watch an experiment happen onstage; whether it's wrong or right, they embrace it, and that's really cool. And about four days into the tour, Charlie was like, 'I think we need to record this stuff!'"
After further refining their repertoire via several subsequent tours together, Hunter and Woodward finally did just that. In November 2018, the pair reconvened at Stephen Lee Price's studio in High Point, NC, with longtime Hunter collaborator Derrek Phillips on the drums. "We'd been playing live with percussionists all year," says Woodward, "but Charlie said, 'Let's record this with drums; it's the way to go.'" "Derrek drummed on a lot of my records from the early 2000s, and we were on the road together for a long time," says Hunter. "Great drummer, great pocket, great everything. He's the only guy I know that's played with like Hank Williams Jr. and Greg Osby — I don't think that many people can claim a wide net like that!"
 In just three days, with Price at the controls, Hunter, Woodward and Phillips recorded the eleven tracks that comprise Music!Music!Music! The often drastically reworked songs range from the old-world blues of Blind Willie Johnson ("Soul of a Man") and Bessie Smith ("You've Been a Good Ole Wagon") to the tormented soul of Nina Simone ("Plain Gold Ring," "Be My Husband," and the immortal "Please Don't Let Me Be Misunderstood"), from jazz standards ("Angel Eyes" and "Music! Music! Music!," popularized by Ella Fitzgerald and Teresa Brewer, respectively) to bluegrass and alt-country classics (Hazel Dickens and Alice Gerrard's "The One I Love Is Gone," Lucinda Williams' "Can't Let Go"), from the smoky Fifties R&B of Ruth Brown's "I Don't Know" to the technicolor Eighties funk of Terence Trent D'Arby's "Wishing Well." "We'd already worked out all the arrangements and grooves during our tours together," says Woodward of the album. "We sort of planned for this all year, found the right time to do it — and pressed 'record'!"
Soulful, spacious and deliciously in the pocket, Music!Music!Music! makes the most of the interplay between Hunter's funky guitar and Woodward's powerful voice. The album reverberates with the thrilling intensity of the duo's live shows, while crackling with the electricity that results when two talented performers stretch out together from their respective comfort zones. Though Hunter utilized the unusual percussive slapping and picking technique that has characterized his playing for three decades, the sessions for the album found him jettisoning his custom-built seven-string guitars in favor of the "Big Six" created for him by Hillsborough, NC luthiers Hybrid Guitars. "It's a big, fat-sounding machine," he enthuses. "It has the three lower strings of a bass, and the three middle of a guitar, which works perfectly with Lucy's voice — it keeps us from bumping into each other. The funny thing was, it was in a completely different tuning than the other guitars I'd been using, and I had to relearn all of the songs then and there. And that's why there's not a lot of fancy guitar playing on the album; most of what I'm doing is just staying in the groove and playing the right shit."
 For Woodward, who in addition to her own solo career has sung on recordings by Celine Dion, Rod Stewart, Snarky Puppy, Barbra Streisand, Chaka Khan, Carole King, Nikka Costa and Joe Cocker, it was a new experience singing in the studio with such sparse-yet-funky instrumentation, not to mention recording in a situation where vibe and feel took precedent over tight arrangements. "I'd never done a record where I've toured with anything smaller than a quartet, quintet or big band," she says. "Charlie taught me a lot about carving out and leaving space in the songs, rather than just singing your verse, and then another verse, and then a chorus. In his world, space is just as important as what happens when you play. It was challenging for me in so many ways to sing on songs that have so much breathing room — realizing that I don't have to fill up every hole with something — but it feels so right. While recording a lot of these songs, I didn't even want to start singing because I just wanted to listen to Charlie and Derrek play. They were just so funky."
 "It was just fun, man," says Hunter. "I'm really happy with how it came out. I've done so many records in my lifetime, everything from jazz to working with hip-hop people, really avant-garde stuff with Bobby Previte and Omaha Diner, and even jammy stuff — but this is the first record I've ever done that is really a partnership with a singer. And it's really fun, because it also doesn't make me feel like the pressure is all on me. It's nice to do what I like to do, which is lay in the groove, and just drive the music; that's what makes me happy."
 "I've collaborated, for sure, but having a duo, or a different billing than my own is refreshing to me," adds Woodward. "The world is hard enough making music, in terms of the business side, so when you have a team player with you, so much more time can be focused on actually making music."
 "I've spent so much of my career playing instrumental music," laughs Hunter, "and playing instrumental music is like looking for an apartment in New York City with three dogs — it's like, you're immediately disqualified from ninety percent of them right off the bat. And then you get a singer, and now all of a sudden, it's like I'm good-looking, or something. It's like, 'Oh, we've been waiting for you!' It's really great, and I'm really looking forward to us playing these songs live again."