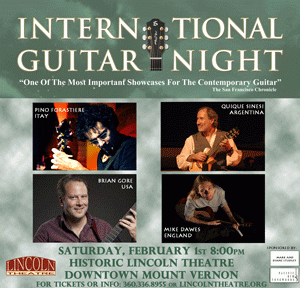 Saturday, February 1, 2014 - 8:00pm
Reserved seating tickets: $32, $29, $26 & $23 with $2 off for Lincoln Theatre Members.
IGN 2014 is sponsored by Mark & Diane Studley, the Downtown Mount Vernon Association and Pacific Rim Tonewoods
For the January/February 2014 U.S. tour, IGN founder Brian Gore will be joined by Italy's Pino Forastiere, Mike Dawes from England, and Quique Sinesi from Argentina. Pino and Mike are revered in contemporary steel string guitar circles for their unique mix of melody, improvisation and hand percussion using the strings, the fretboard and the body of the guitar. Quique is a master of many South American melodies and rhythms on both guitar and charango. We are looking forward to a particularly inventive evening of contemporary guitar music.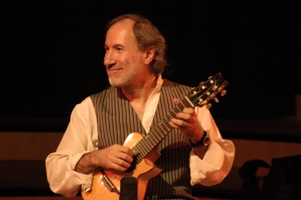 QUIQUE SINESI, born in 1960, is considered one of the most important guitarists in Argentina for his personal style. His music is based in elements of Tango and Folklore from his country, and rhythms from "Rio de la Plata" like Candombe, incorporating elements of jazz, improvisation, classical and world music. He plays a 7 string Spanish Guitar, Piccolo Guitar and Charango.
Over his career, Quique has played and recorded with an amazing array of musicians. He has played for years with the bandoneonist Dino Saluzzi and founded the group Mágic Carpet with Matias Gonzalez and Horacio López. Other noted musicians with whom he has played or recorded include Enrico Rava, Pedro Aznar, Ruben Rada, Paquito de Rivera, Joe Lovano, Markus Stockhausen, Erling Kroner, Wolfgang Haffner, Marcelo Moguilevsky, Michael Forman, Carlos Aguirre, Juan Falú, Karnataka College of Percusion, Dieter Ilg, Jasper Van Hof, Nazim, Daniel Messina, and the Pablo Ziegler Quintet.
Since 1999 he has played in a regular duo with the legendary saxophonist Charlie Mariano, recording the CD "Tango para Charlie" (enja). In the year 2000 he started the project "New Tango Duo" with Pablo Ziegler (former pianist of Astor Piazolla) and both invited Walter Castro to join them as special permanent guest.
As soloist Quique has recorded several CDs and has played in many important international Guitar Festivals. In 2003 he recorded as soloist the Double Concert for Guitar and Bandoneon from Astor Piazzolla with Lothar Henzel and the Symphonic Orchestra from Deutschland Radio Berlin.
Quique's musical projects have taken him around the world, visiting Uruguay, Brazil, Bolivia, Chile, Colombia, Mexico, the United States, Canada, Germany, Sweden, Denmark, Austria, Switzerland, Luxemburg, Spain, England, Greece, Croatia, The Netherlands, Croatia, Turkey and France. This will be his first tour with International Guitar Night.
 
Since Mike Dawes released his debut single with Candyrat records in June 2012, his international profile has exploded. The young performers' virtuoso style, littered with subtle nuances and micro-techniques has earned the 24 year old Brit massive international critical acclaim.
The 'What Just Happened?' world tour, in support of his debut album, has taken his energetic, vibrant and questionable English humour to Asia, Australasia, Europe, the Americas and beyond, and has landed the young player with an almost limitless stream of exciting sessions and collaborations.
Artists as globally diverse as Gotye and Newton Faulkner have worked with Mike in the studio, adding his guitar parts to their major album portfolios, whilst Justin Hayward of The Moody Blues acquired a right hand axe man in Mike, as the pair are currently touring together in support of their respective new records.
Mike's stage show has to be seen to be described, a youthful energy and charisma that blows the lid off the traditional guitar concert. His videos gain hundreds of thousands, if not millions of views in as little as one week online. Mike is extremely excited to bring his solo, and collaborative show to North America as part of the acclaimed International Guitar Night.
'Astounding Virtuosity' - Gotye
'Completely Spellbinding' - Evening Post
'Incredible' - International Guitar Foundation (IGF)
'Beautiful and sensitively played arrangements and compositions' - Acoustic Magazine
'Amazing Guitarist' - MSN.com (Headline)
'Mike tears it right up, his hand looks like a creepy spider!' - Andy Mckee
'This guy makes me want to put my guitar in the recycling' - Beardyman
'I was in a trance, I didn't notice I was spilling beer on my leg' - Martin Harley
San Francisco guitar poet Brian Gore is gaining a reputation as one of the most interesting and influential performers of "the next generation" in fingerstyle guitar. A musical romantic, his compositions draw inspiration from myth and modern literature. Hailed as having "...one of the most unique new acoustic guitar styles on the scene today (News and Review)," his lyrical, understated compositions integrate classical and percussive techniques that display what the Los Angeles Times calls "a characterful bounce and spaciousness all his own."
Gore's style of playing offers strikingly beautiful tone and dynamics-- qualities that are often hard to find in steel string players. His melodic, evocative songs rely heavily on the use of open tunings, extending the "stream of consciousness" style of guitar composing he grew up with in Northern California. "Music started out as a kind of therapy for me," says Gore. "Consequently, I am a very emotional player. Now, my style of playing has also become a well honed craft. I am very grateful I can share this with people."
His buoyant personality and odd sense of humor help add lightness to his shows. "By the time I'm done with a performance," explains Gore, "people really know the meaning of the term 'extroverted introvert'." While Gore integrates some of the flashier percussive techniques into his pieces, the poetic quality of his music is preserved. "Because my music is simple and somewhat rootsy, it's easy to relate to, which is something I'm thankful for. Also, it helps keep me grounded."
Gore's first CD, produced by Peppino D'Agostino, is called The Path of Least Resistance. His second CD, Legacy: Solo Guitar and Duets, is available on Germany's Acoustic Music Records Label. His music has been featured on NPR's nationally syndicated Echoes Radio, and many other local public radio programs.
Brian founded The International Guitar Night in 1995 as a forum for the world's finest guitarists/composers to play their latest original songs and share musical ideas with their peers in public concert. This has evolved into critically acclaimed annual tours in the US (starting in 2000), Canada (starting in 2006) and the UK (starting in 2007), a CD on Favored Nations Records released in 2004, a guitar instruction book published in 2005, and IGN releases on Warner Music Canada (the 6th annual CD will be released in 2011).
"Brian Gore's strong, well developed melodies and intriguing chord sequences set him apart from the myriad of steel-string fingerstylists who compose in open tunings. His finely crafted poetic "songs without words" take the listener on a spellbinding emotional ride."
--Ron Forbes Roberts, Acoustic Guitar Magazine
"An artist of the highest caliber."
--Ray Toumey, the Boulder Chautauqua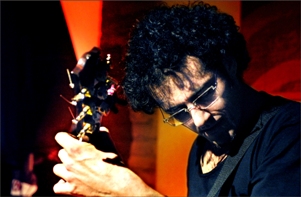 The music of Italian guitarist Pino Forastiere comes from a solid background in classical, contemporary and rock music, evolving into a style that 's hard to define. He "employes a dazzling blend of slapping, tapping, strumming, altered tunings and harmonics, combined with classical phrasing and a focus on distinct and addictive melodies" (Anil Prasad, Guitar Player).
His music is "something like a mix of Steve Reich's interlocking rhythmic patterns meet Michael Hedges's techniques, all while admiring Eddie van Halen" (John Schaefer, WNYC).
Born in Latronico, a small village in Southern Italy, Pino moved with his family to Rome in his early childhood. In 1992, he graduated from Santa Cecilia Conservatory with a degree in classical guitar, taking his final exam with a ten-string classical guitar. In the following years, he used the ten-string guitar to play baroque, contemporary and original repertoires.
In 1996, he decided to pick up a six-string acoustic guitar, which is now his only instrument. Pino has studied composition and chamber music; he has performed in various ensembles with classical or original repertoire, collaborating with jazz, experimental, electronic and pop projects.
Pino lives in Rome, Italy. He performs in venues and festival in Italy, Europe, Canada and USA, for both finger-style and classical societies.
In 2008, Pino Forastiere premiered in Rome "Why Not?", an epic concerto for electro-acoustic guitar and string orchestra which became the titletrack of his third solo album ("Why Not?", Candyrat 2008). In 2009, he released "Live DVD/CD" (Candyrat 2009), a collection of 15 tracks from his previous three solo album, performed live in a very inspired one-day session.
In March 2010, he made his debut with GUITAR REPUBLIC, the new acoustic guitar trio "made in Italy" with Sergio Altamura and Stefano Barone. Also in 2010, Pino joined the International Guitar Night 2010/2011 (UK, Canada and USA), with Clive Carroll, Alexandre Gismonti and Brian Gore.
In December 2011, Pino released his new solo album "from 1 to 8", a collection of eight beautiful etudes for acoustic guitar.
"Each composition is a unique journey of impeccable technique and melodic invention. Pino Forastiere is a scientist of the guitar, but a scientist with soul" – Echoes.org
"Prepare to be transported to another dimension" – Jam Magazine
Sponsored by Mark and Diane Studley