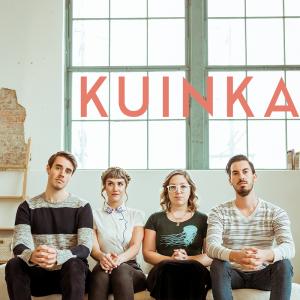 Friday, November 16, 2018 - 7:30pm
Advance Festival Seating Tickets: $25; Day of Show $30 + applicable fees. Lincoln Theatre Members receive $2 off.
Kuinka returns to their hometown to close out their fall tour with a special concert on Friday, November 16th.
Described by NPR Music as joyous folk pop, Kuinka "laces modern folk and Americana with an electronic jolt, waltzing along the grooved edges of dream-pop, synth-pop, and Brooklyn's mid-aughts guitar-rock revival" (Vanyaland). Their genre-defying music features several different lead singers, four-part harmony, and eclectic instrumentation including cello, banjo, synthesizers, ukulele and electronic percussion. For all of their sonic experimentation, the Seattle quartet's songs and live shows are linked by an infectious energy that remains present in everything they do. Their new EP Stay Up Late is available now on Spotify, iTunes, and at www.kuinkatheband.com.
"Kuinka crafts songs that are engaging and original with a proper amount of established canon and innovation. Stories are laced through the lyrics, there are celebrations as well as lamentations—there is synth and cello! It is such a wonderful thing to hear a sound you've adored for so long ameliorated like this, with nothing missing, only new possibilities added to the mix." -Paste Music & Daytrotter
"Seraphic vocals bookended by ukulele, cello, and heavy percussion will leave you feeling giddy and glad to be alive." -The Stranger
Cumulus opens the show:
"Cumulus is the type of band whose music saves lives. Not literally, of course—although who knows, stranger things have happened—but the Seattle group's sincere guitar-ringing pop is so lovely and warm that it feels just as vital as blood and breath." -Portland Mercury