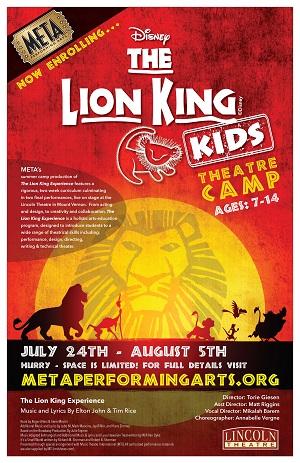 Saturday, August 5, 2017 - 1:00pm
Saturday, August 5, 2017 - 4:00pm
Disney's The Lion King
Summer Camp Performances
Saturday August 5th at 1:00pm and 4:00pm
Disney's The Lion King has captivated the imagination of audiences around the world with this one-of-a-kind musical. The African savannah comes to life on stage with Simba, Rafiki and an unforgettable cast of characters as they journey from Pride Rock to the jungle... and back again, in this inspiring, coming-of-age tale.
After a rigorous, two-week curriculum META's summer camp production of The Lion King Experience culminates in two final performances, live on stage at the Lincoln Theatre in Mount Vernon.
Come see what these young performers have learned!
General Admission Tickets: $8.00