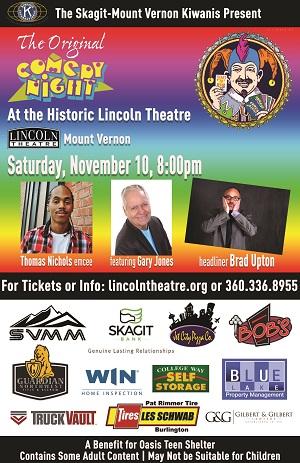 Saturday, November 10, 2018 - 8:00pm
All seats: $20 + applicable fees!
For over 20 years The Skagit-Mount Vernon Kiwanis have held their Original Comedy Night at the Lincoln. Net proceeds from this show are returned to our community for assistance to Skagit area kids and other community needs. A good time for a good cause!
Headliner: Brad Upton
If the Pacific Northwest had a Mt. Rushmore of Comedy, this man's head would be on it.  Brad opens for some of the biggest names in show business, performs all over the country for numerous corporate events, does 8-12 weeks a year all over the world on cruise ships, opens for the legendary Johnny Mathis and performs at a handful of clubs and casinos keeping his schedule very full.
Brad Upton was a 4th grade teacher and high school track coach when he stepped on stage for the very first time in September of 1984 and he's never looked back. He quickly rose through the standup ranks making numerous television appearances and headlining comedy clubs from coast-to-coast. In late 2018 he will surpass 6000 lifetime performances. In a 34-year professional career there are too many highlights to name them all. He is a past winner of the Las Vegas Comedy Festival and appeared at Caesar's Palace as part of the HBO Comedy Festival. He has spent the last twelve years as the opening act for the legendary Johnny Mathis and did multiple shows all over the country with the late, great Joan Rivers. He has also been seen in concert with The Smothers Brothers, Smokey Robinson, Little Big Town, Kenny Rogers, Dolly Parton, Lewis Black, George Jones, Glen Campbell, Pam Tillis, Neal McCoy and many others.
All over North America isn't the only place Brad performs. Brad has headlined in Sydney, Singapore, Hong Kong, The MGM in Macau and did eight nights in Israel as part of the Comedy for Koby benefit. In the fall of 2017 he performed for four nights at Comedy Masala in Karachi, Pakistan. His new CD entitled, "Brad Uptonogood" is heard regularly on Sirius Satellite Radio and is available online wherever music is sold. He also just released his first DVD entitled, "Brad Upton, Live from the 509".
Writing about everyday life, a long term marriage and anything else that pops into his head, Brad packs more laughs-per-minute into his set than nearly anyone in the business. It's not all comedy either; he actually has a hobby that keeps him busy every spring. Brad and his wife of 31 years, have a 24-year old son and 21-year old daughter….they are empty-nest, cul-de-sac dwellers.
Other Performers include:
Gary Jones
When Gary retired as an airline captain he started a new career as a stand-up comedian; he never looked back. For a number of years he has been performing in many of the major casinos from Washington to Arizona and numerous comedy clubs. He just finished another USO tour entertaining our military. When not on tour, you may have seen him on NBC's Grimm and TNT's Leverage.
 He takes the audience on a journey known as life through a comedian's viewpoint. He touches on growing up, parents, dating, relationships, getting older, being a husband, and father. In short, most areas that all of us have experienced through life, but in a very fun and funny way. He also gives us a glimpse at life as an airline captain and time spent in Viet-Nam as a combat veteran. His likeable, funny manner has pleased audiences wherever he has performed. More than ever, America needs laughter and Gary delivers.
Thomas Nichols
Thomas Nichols is a stand-up comedian based in Dallas, Texas now in Seattle, Washington. His unique and whip smart observations span from everything to cartoons to broken families to missing pets- the laid back funnyman transitions seamlessly from one tightly crafted joke to the next within the course of a single set. Deadpan, hilarious, and wise beyond his 27 years, Nichols is a nationally touring comic who's been featured at the New York Finger Lakes Festival, and was a finalist at the Denver Make Me Laugh Festival. His unique brand of friendly, effortless cool and his quick wit have made him a favorite recurring guest on Fishbowl Radio, as well as one of the most popular club acts. 
The Skagit-Mount Vernon Kiwanis wish to thank their generous sponsors: Skagit Valley Mobile Manor, Rat Rimmer Les Schwab, Jet City Pizza, Skagit Bank, Bob's Burgers and Brews, College Way Self Storage, Denny's, Guardian Northwest Title, Win Home Inspection, Truck Vault, and Gilbert & Gilbert Lawyers.